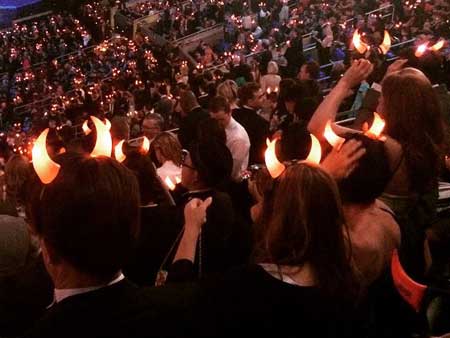 For those that may know, LLCoolJ (aka James Todd Smith) is an artist who has had much acclaim testifying that he is a Christian and has faith in God.
LLCoolJ began the show by introducing AC/DC. He said,
"…For those who want to Rock, here to kick off the 57th Annual Grammy Awards headed on the highway to Hell, …AC/DC!"
…and then AC/DC proceeded to play.
They launched with their new song, "Rock or Bust," and then went into their satanic anthem, "Highway to Hell." As they began to play the song, the audience was cued to take a gift that was supplied to them by the Grammys and place it on their heads.
The gift was a pair of plastic devil horns that lit up.
(Read the rest of the story here…)