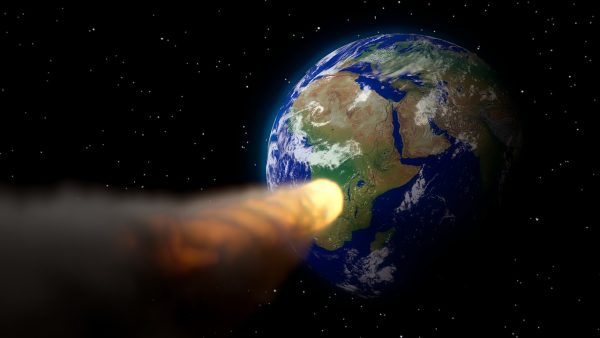 Over 800 years ago, a German mystic known as St. Hildegard saw that a "great nation in the ocean that is inhabited by people of different tribes" will be devastated "by an earthquake, storm and tidal waves".  Ultimately, that nation "will be divided, and in great part submerged".  Obviously, the "great nation in the ocean that is inhabited by people of different tribes" would likely be the United States of America.  And many men and women of God during our time have been shown that America will someday be hit by giant tsunamis on both coasts and that a great earthquake will divide our country in the middle right along the New Madrid fault line.  Could it be possible that St. Hildegard saw the exact same things?
The other day, Lindy Snow Pierce asked me if I had ever heard of St. Hildegard, and I had to admit that I had not.
So I started doing some digging, and I discovered that she lived in Germany more than 800 years ago.  The following info on her background comes from the Encyclopedia Britannica…
St. Hildegard, also called Hildegard of Bingen or Hildegard von Bingen, byname Sibyl of the Rhine, (born 1098, Böckelheim, West Franconia [Germany]—died September 17, 1179, Rupertsberg, near Bingen; canonized May 10, 2012; feast day September 17), German abbess, visionary mystic, and composer.

Hildegard was born of noble parents and was educated at the Benedictine cloister of Disibodenberg by Jutta, an anchorite (religious recluse) and sister of the count of Spanheim. Hildegard was 15 years old when she began wearing the Benedictine habit and pursuing a religious life. She succeeded Jutta as prioress in 1136. Having experienced visions since she was a child, at age 43 she consulted her confessor, who in turn reported the matter to the archbishop of Mainz. A committee of theologians subsequently confirmed the authenticity of Hildegard's visions, and a monk was appointed to help her record them in writing. The finished work, Scivias (1141–52), consists of 26 visions that are prophetic and apocalyptic in form and in their treatment of such topics as the church, the relationship between God and humanity, and redemption. About 1147 Hildegard left Disibodenberg with several nuns to found a new convent at Rupertsberg, where she continued to exercise the gift of prophecy and to record her visions in writing.
It is important to keep in mind that at the time of her ministry the United States of America did not exist and the Protestant Reformation had not happened yet.
She had many prophecies regarding the end times and the Antichrist, but her prophecy that appears to talk about the future of the United States is what really got my attention.
Remember, this prophecy is more than 800 years old…
Before the Comet comes, many nations, the good excepted, will be scoured with want and famine. The great nation in the ocean that is inhabited by people of different tribes and descent by an earthquake, storm and tidal waves will be devastated. It will be divided, and in great part submerged. That nation will also have many misfortunes at sea, and lose its colonies in the east through a Tiger and a Lion. The Comet by its tremendous pressure, will force much out of the ocean and flood many countries, causing much want and many plagues. All coastal cities will be fearful and many of them will be destroyed by tidal waves, and most living creatures will be killed and even those who escape will die from a horrible disease. For in none of these cities does a person live according to the laws of God.
In our time, dozens of men and women of God have been shown that a meteor will one day strike the Atlantic Ocean.  That impact will cause a tsunami that is hundreds of feet high to slam into the east coast of the United States, and millions will be killed.
To me, it sounds like St. Hildegard is referring to that exact event in this prophecy.
Throughout history, there have always been men and women with a prophetic gift.  The Lord always warns about judgment in advance, and in this case we appear to have a warning that is more than 800 years old.
Of course in our day and time the warnings have become a lot more intense.  All over the world people have been having supernatural experiences where they have been shown what is coming, and we will continue to detail more of those on this website in the days ahead.