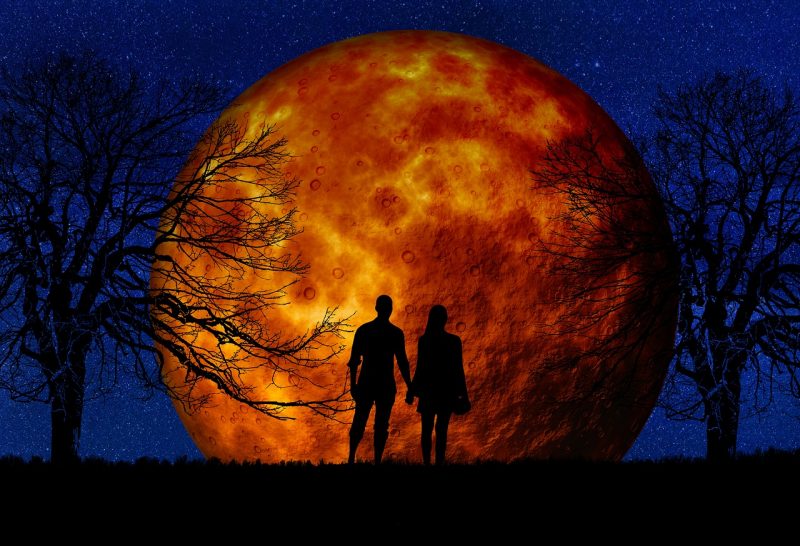 I hope that you are sitting down, because I am going to share some things with you in this article that are deeply alarming.  I am going to try to cover everything as quickly as I can, but I want to warn you in advance that this is not going to be a short piece.  Now that we have entered the second half of November, things appear to be breaking loose all over the globe.  I don't know if every single item that I will share with you in this article will become a crisis, but every single one of them is definitely worth monitoring.
But before I get to the specifics, let me tell you about something really strange that is happening with the moon.  Very early on Friday morning, a nearly total lunar eclipse will turn the moon red for up to three and a half hours…
The longest partial lunar eclipse of the century will take place on Friday morning, making the moon appear red for up to 3.5 hours.

It will darken the moon for most of the planet on November 19, with up to 97 per cent of the moon slipping into Earth's shadow.

The best place to view the eclipse will be North America, where almost all of the 3.5 hours will be visible, as it will be nighttime when the eclipse begins.
This will be the longest such eclipse for this entire century.
Needless to say, this "blood moon" is generating a lot of speculation, because "blood moons" are often associated with death and destruction.
Those living in Europe will not have a good view of the eclipse at all, but the entire population of North America will be ideally positioned to see it as long as the weather cooperates.
Meanwhile, all sorts of very strange health-related stories have started to pop up in the news.
For example, authorities just informed us that there is a confirmed case of the monkeypox in the United States…
"The Maryland Department of Health, in collaboration with the U.S. Centers for Disease Control and Prevention (CDC), today confirmed a single case of monkeypox virus infection in a Maryland resident who recently returned from Nigeria."
As I write this article, the only thing that we know about the victim is that he or she has been hospitalized…
The Maryland Department of Health (MDH) says the patient has not been hospitalized and is currently recovering in isolation with mild symptoms.

No details are available regarding the resident's name, age, sex, where he or she lives, and where he or she traveled to in Nigeria.
Hopefully this individual has been isolated in time, because monkeypox causes grotesque sores on the skin, and it can be quite deadly.  The following comes from the official CDC website…
Monkeypox is a rare disease that is caused by infection with monkeypox virus. Monkeypox virus belongs to the Orthopoxvirus genus in the family Poxviridae. The Orthopoxvirus genus also includes variola virus (the cause of smallpox), vaccinia virus (used in the smallpox vaccine), and cowpox virus.

Monkeypox was first discovered in 1958 when two outbreaks of a pox-like disease occurred in colonies of monkeys kept for research, hence the name 'monkeypox.' The first human case of monkeypox was recorded in 1970 in the Democratic Republic of Congo during a period of intensified effort to eliminate smallpox. Since then, monkeypox has been reported in humans in other central and western African countries. Human monkeypox infections have only been documented six times outside of Africa; in the United States in 2003 (47 cases), in both the United Kingdom (3 cases) and Israel (1 case) in 2018, in Singapore in 2019 (1 case) and in both the United Kingdom (3 cases) and the United States (1 case) in 2021.
The CDC admits that "there is no proven, safe treatment" for monkeypox, and so let us hope that it is successfully contained.
On Wednesday, we also learned that law enforcement authorities have recovered "questionable vials" that were labeled "smallpox" from a facility near Philadelphia…
The FBI and the Centers for Disease Control and Prevention are investigating "questionable vials" labeled "smallpox" and found in a freezer last night at a Merck facility outside Philadelphia, according to an alert sent to Department of Homeland Security leadership on Tuesday night.

There were reportedly a total of 15 questionable vials, according to the unclassified "For Official Use Only" alert, a copy of which was obtained by Yahoo News. Five of the vials were labeled as "smallpox" and 10 were labeled as "vaccinia." The vials were secured immediately.
We definitely do not want to see a smallpox outbreak.
Like monkeypox, it can cause horrifying sores on the skin, and the death rate for smallpox is very high.  The following comes from the official CDC website…
Before smallpox was eradicated, it was a serious infectious disease caused by the variola virus. It was contagious—meaning, it spread from one person to another. People who had smallpox had a fever and a distinctive, progressive skin rash.

Most people with smallpox recovered, but about 3 out of every 10 people with the disease died. Many smallpox survivors have permanent scars over large areas of their body, especially their faces. Some are left blind.
The good news is that there is no indication that anyone was exposed to whatever these vials contain…
"There is no indication that anyone has been exposed to the small number of frozen vials. The frozen vials labeled "Smallpox" were incidentally discovered by a laboratory worker while cleaning out a freezer in a facility that conducts vaccine research in Pennsylvania," the CDC said in a statement to Yahoo News. "CDC, its Administration partners, and law enforcement are investigating the matter and the vials' contents appear intact. The laboratory worker who discovered the vials was wearing gloves and a face mask. We will provide further details as they are available."
For years, health experts have been mentioning a return of smallpox as a very serious potential threat.
And it is interesting to note that Bill Gates was talking about smallpox just a few weeks ago…
Bill Gates has called on governments to give billions in research and development funding to prevent future pandemics and 'bio-terrorism'.

The billionaire founder of Microsoft warned that world leaders must prepare for disasters like 'smallpox terror attacks' whatever the cost, and called for the formation of a new billion-dollar World Health Organisation Pandemic Task Force.
Meanwhile, we are starting to see horrifying bird flu outbreaks all over the globe.
For now, humans are not being affected, but large numbers of chickens have been culled in an attempt to prevent the spread of the disease.
According to Forbes, Europe and Asia are being hit the hardest so far…
Here's some fowl news. Outbreaks of highly pathogenic avian influenza have recently been occurring in various parts of Europe and Asia. Highly pathogenic avian influenza ain't just your run-of-the-mill bird flu. The Merriam-Webster dictionary defines "pathogenic" as "causing or capable of causing disease." Therefore, being called "highly pathogenic" by your friends would not be a compliment. Similarly, highly pathogenic avian influenza is essentially bird flu that is either highly capable of causing disease or can cause severe disease. Or both. That's why these outbreaks have been a bit of an "oh cluck" problem for poultry and poultry farmers.
At the same time, a very alarming new strain of COVID has been identified in France…
A new Covid strain with unprecedented changes in its spike protein has reportedly been discovered in the northwestern French region of Brittany, according to local media.

The new strain was reportedly detected in people who contracted the virus back in mid-October. It infected a total of 24 people in France, including 18 children attending the same school and six adults who had contact with them, French media reported.
Scientists don't know if this new strain is more dangerous than other strains, but what we do know is that it appears to be very different from anything seen previously…
Analysis of this strain "did not correspond to anything" previously known, the official said, adding that it resembled neither the profile of the widespread Delta variant, nor those of other Covid-19 strains of concern.

The variant, which has since been called B.1.640, is reportedly missing part of its spike protein. This protein is normally used by the virus to enter human cells and spread the infection through the body. It is unclear if this mutation makes the virus more or less contagious.
Of course this comes at a time when a "new wave" of COVID is starting to hammer Europe really hard.
In fact, Angela Merkel says that the virus is hitting her nation with "full force" right now…
Germany's Angela Merkel has described the Covid-19 situation in her country as "dramatic," as the outgoing chancellor considers how to deal with an infection rate that has hit a record.

"The fourth wave is hitting our country with full force," Merkel told an event for the Association of German Cities, according to a translation by Deutsche Welle and several other media outlets.
As I discussed in my most recent book, I believe that we have entered an era of great pestilences.
So many labs are monkeying around with extremely virulent diseases these days, and it is way too easy for mistakes to happen.
In addition, it is only a matter of time before we start seeing major terror organizations use biological weapons to further their goals.
If a relatively minor pandemic like COVID can cause so much chaos, what is going to happen to our world once something far worse is unleashed?
You may want to think about that, because the next great pandemic may get here a lot sooner than most people expect.
***It is finally here! Michael's new book entitled "7 Year Apocalypse" is now available in paperback and for the Kindle on Amazon.***
About the Author: My name is Michael Snyder and my brand new book entitled "7 Year Apocalypse" is now available on Amazon.com.  During this season, I would like to encourage you to send digital copies of my new book to your family and friends as gifts.  That will help to support the work that I am doing, and it will help to multiply the impact of the book.  In addition to my new book I have written five other books that are available on Amazon.com including  "Lost Prophecies Of The Future Of America", "The Beginning Of The End", "Get Prepared Now", and "Living A Life That Really Matters". (#CommissionsEarned)  By purchasing the books you help to support the work that my wife and I are doing, and by giving it to others you help to multiply the impact that we are having on people all over the globe.  I have published thousands of articles on The Economic Collapse Blog, End Of The American Dream and The Most Important News, and the articles that I publish on those sites are republished on dozens of other prominent websites all over the globe.  I always freely and happily allow others to republish my articles on their own websites, but I also ask that they include this "About the Author" section with each article.  The material contained in this article is for general information purposes only, and readers should consult licensed professionals before making any legal, business, financial or health decisions.  I encourage you to follow me on social media on Facebook and Twitter, and any way that you can share these articles with others is a great help.  During these very challenging times, people will need hope more than ever before, and it is our goal to share the gospel of Jesus Christ with as many people as we possibly can.