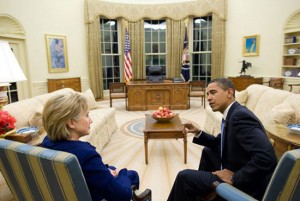 The latest headlines from The Most Important News….
Sadly, Barack Obama is the most admired man in America and Hillary Clinton is the most admired woman in America.
Will Hillary Clinton soon be stepping down as Secretary of State?
Word on Capitol Hill is that Sen. John Kerry, the 2004 Democratic presidential nominee with a well-worn passport to the world's hot spots, is in the mix to replace Secretary of State Hillary Clinton if she steps down.
New York City Mayor Michael Bloomberg on Monday asked residents not to dial 911 unless calling about a life-saving emergency, as edgy travelers faced difficult weather conditions stemming from the fifth-largest winter storm in New York City's history.
A package bomb has been found at the Greek Embassy in Rome, three days after mail bombs exploded at two other embassies injuring two people.
South Korea plans to hold a fresh round of naval firing drills at 23 locations around the Korean Peninsula, excluding areas near the disputed sea border with North Korea.
It is being reported that the U.S. will deploy another nuclear-powered aircraft carrier in Northeast Asia in response to North Korea's threat of a "sacred war" using nuclear weapons.
Two suspected U.S. drone strikes in Pakistan's tribal region killed 18 alleged militants on Monday.
Israeli Foreign Minister Avigdor Lieberman says that a peace agreement with the Palestinians under current conditions is not possible and any attempts to reach a deal in the coming year are "unrealistic".
A new Palestinian book that defies history and the Bible calls Jesus "the first Palestinian martyr".
Two thousand years after the birth of Christ, Christians are leaving the Holy Land in record numbers, and a new report suggests persecution against Palestinian believers is getting worse.
In Nigeria, dozens of radical Muslims attacked a church on Christmas Eve, dragging the pastor out of his home and shooting him to death. Two young men from the choir who were rehearsing for a late-night carol service also were slain.
Despite sanctions and trade embargoes, over the past decade the United States government has allowed American companies to do billions of dollars in business with Iran and other countries blacklisted as state sponsors of terrorism, an examination by The New York Times has found.
Defying Beltway expectations, both chambers of Congress have approved a $724.6 billion defense bill for the current fiscal year.
Iran's representative to the Organization of Petroleum Export Countries declared on Sunday that he expects the price of crude oil to hit $100 a barrel soon.
The former president of Shell Oil, John Hofmeister, says Americans could be paying five dollars for a gallon of gas by 2012.
The U.S. government is sticking with an outlook that sees crude prices not hitting triple digits until 2015.
According to Bruce Bartlett, the U.S. government budget deficit for 2010 was really $2.1 trillion dollars.
Appearing on Fox News Sunday, Senator Tom Coburn (R-OK) predicted "apocalyptic pain" if Congress does not enact major spending cuts.
America is storing up a second financial crisis by keeping interest rates at record low levels, according to David Einhorn, the hedge fund manager who first publicly warned about the financial catastrophe facing Lehman Brothers.
The University of Michigan's Consumer Sentiment Index for December reached its highest level in six months, and personal income edged upward in October and November, supporting the fifth straight monthly gain in U.S. consumer spending, according to data released on Thursday.
Other polls indicate that optimism about the economy is fading in America.
If the U.S. economy does not grow (0% GDP increase) in 2011, then we will have an official unemployment rate of about 11.2 percent by the end of next year.
China has surprised the rest of the world by raising interest rates yet again.
The Greek Parliament early Thursday approved the Socialist government's 2010 austerity budget, which aims to slash Greece's fiscal deficit through a mixture of spending cuts and higher taxes.
Ron Paul has introduced a bill which would permit alternative currencies to compete with Federal Reserve notes inside the United States.
Janet Napolitano says that the new full body scanners and "enhanced pat-downs" are here to stay.
The federal government's "If You See Something, Say Something" campaign to encourage citizen vigilance against terrorism threats doesn't amount to a Big Brother-style spying effort, Napolitano said in an interview that aired Sunday.
The United States is stepping up security at "soft targets" like hotels and shopping malls, as well as trains and ports, as it counters the evolving Al-Qaeda threat, a top official said Sunday.
The use of illegal steroids by cops all over the United States is becoming a "big problem".
This year security forces have arrested over 27,000 suspected drug gang members as part of Mexico's ongoing bloody military-led crackdown on cartel operations.
Authorities in Arizona are trying to determine who is responsible for a Christmas Day attack on an Arizona lawmaker who was found beaten and bound inside his own business.
Barack Obama is voicing support for a U.N. resolution that could accomplish something as radical as relinquishing some U.S. sovereignty and opening a path for the return of ancient tribal lands to American Indians, including even parts of Manhattan.
Does Pat Robertson now support the legalization of marijuana?
A federal appeals court struck a blow against the desire of the Federal Communications Commission to enforce net neutrality rules on the Internet, ruling the FCC must first get Congress to approve such a sweeping expansion of its regulatory power.
A swine flu pandemic is sweeping through Britain despite the fact that 70 percent of Britain's over-65 population was vaccinated against swine flu last year.
In the UK, vital cancer operations are being canceled as hospitals struggle to cope with soaring numbers of flu victims.
Is the Gulf of Mexico being permanently altered?
A 7.3-magnitude earthquake recently struck close to Vanuatu in the western Pacific, generating a small tsunami.
More than 500 measurable earthquakes have occurred in central Arkansas since September, and it's unknown if they'll stop anytime soon, seismologists say.
It is absolutely frightening to learn what they are putting in our tap water.
New cold weather records are being set all over the northern hemisphere and yet environazis keep talking about how all of this is being caused by global warming.
NASA is making the following promise: "Nothing bad will happen to the Earth in 2012. Our planet has been getting along just fine for more than four billion years, and credible scientists worldwide know of no threat associated with 2012."
One man is now making a living by suing email spammers.
Hawaii Governor Neil Abercrombie is vowing to end the "birther" controversy surrounding Barack Obama's nationality once and for all.
It turns out that Karl Rove believes that Barack Obama will be re-elected in 2012.
Fresh off of the "don't ask, don't tell" victory, Vice President Joe Biden said in a morning show interview that legislation approving gay marriage is inevitable.
Reviving an extremely unpopular bit of legislation, Medicare is moving forward with what they deem "end-of-life planning" even though it was struck from the final version of the Obamacare bill that was pushed through congress earlier this year.
It is estimated that approximately 50 million babies have been aborted in the United States since 1973.
Approximately 52 percent of all African-American pregnancies now end in abortion.
Some expectant parents in western Maryland are objecting to a new policy that bans birth photography at the Hagerstown hospital.
A Milwaukee man says that he thinks it's pretty darn ridiculous that he got fined $500 for swearing on a county bus.
Lastly, a Michigan man faces up to 5 years in prison for reading his wife's e-mail to find out if she was having an affair.