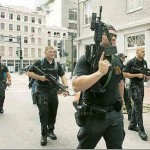 The most important news for Friday, August 7th, 2009…..
Ex-employees claim that Blackwater actually prostituted young Iraqi girls at its compound in Baghdad's fortified Green Zone.
A conservative African-American political activist was physically attacked by Obama supporters at a health care event in St. Louis.
A stunning series of YouTube videos clearly demonstrates that the American people are starting to get seriously upset over the state of affairs in this country.
The U.S. federal budget deficit has reached $1.3 trillion through the first 10 months of fiscal 2009.
The Aish HaTorah Yeshiva, which is located in the Jewish Quarter of the Old City of Jerusalem has placed a huge model of the Second Temple on the yeshiva's rooftop, where it overlooks the Temple Mount and the Western Wall.
Check out this stunning video report about how Ohio police cracked the skull of an 87 year old woman at a Wal-mart.
A 62 year old man was tasered by cops at a baseball game in Oakland, California for sitting in the wrong seat.
Have health insurers shaped health care reform for their own benefit?
Do you know the hidden truth behind drug company profits?
Overpopulated?  The truth is that there is more than enough room in the world for everyone.
Beginning next year, new U.S. passports will actually contain a computer chip embedded in the back cover that will store all of the passport's printed biographical information plus a digital photograph that U.S. authorities say is harder to alter.
One website got our attention recently with this frightening headline: Will government use RFID chips to track your every move?
Former Treasury secretary Hank Paulson has revealed that last fall the Bush administration and Congress actually discussed the possibility of a complete breakdown in law and order and the logistics of feeding U.S. citizens if the financial system totally collapsed as a result of last autumn's financial panic.
Why is the national guard recruiting internment/resettlements specialists?
A team archaeologists from Israel and Australia has been excavating at a site 50 kilometers from Jerusalem in the city of Tell es-Safi in an attempt to find evidence of the Goliath of the Bible.
Did hackers from Russia attack Google, Twitter and Facebook in an attempt to silence a pro-Georgian blogger?
Lastly, did a UFO make a surprise fly-by cameo appearance on a live news show in the U.K.?