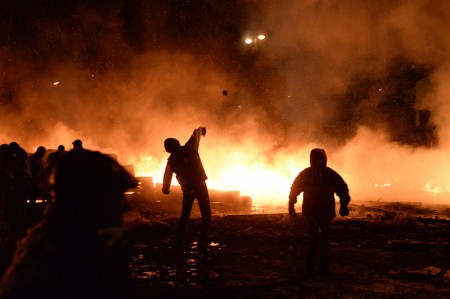 About 1,200 Ukrainian army soldiers have been killed during a special operation in Slaviansk, and eight helicopters and 15 armored vehicles were destroyed, Slaviansk people's mayor Vyacheslav Ponomaryov said Thursday.
"According to our information, the Ukrainian army has the following losses and damages: 1,200-1,300 people were killed, eight helicopters, 15 armored transport vehicles, and three [artillery] weapons destroyed. They are suffering huge losses. I'm speaking only about Slaviansk," Ponomaryov said in an interview with the Latvian radio station Baltkom.
Acting President Oleksandr Turchynov confirmed Thursday the downing of a military helicopter had killed 14 Ukrainian servicemen, including a general. Soon after that, the Ukrainian National Guard clarified that 12, not 14 people were killed in the Mi-8 helicopter crash near Slaviansk.
The people's mayor also noted that the self-defense forces of Slaviansk had lost about 200 people.
(Read the rest of the story here…)
And here is some absolutely stunning footage of a Ukrainian military helicopter being shot down over eastern Ukraine…