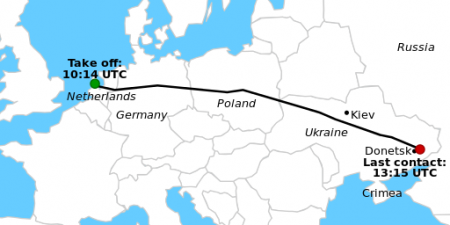 Was MH17 shot down by militants trying to assassinate Vladimir Putin?

Was it work of secret society The Illuminati to establish New World Order?


Were MH17 and MH370, which went missing in March, actually same plane?

Theorists ask why victims' pictured passports in such 'pristine' condition


Theories fueled by fact MH17 came down 17 years to day since maiden flight
As the world continued to search for answers over the downing of Flight MH17, the internet came alive with conspiracy theories today.
The Web has long been a haven for numerologists and conspiracy crackpots peddling their alternative analyses of events that shake the world.
And today was no different as web sleuths across the globe rushed online in a bid to hypothesize over what really happened to the doomed Malaysian Airlines passenger plane . . .
(Read the rest of the story here…)
The Ukrainian military has several batteries of Buk surface-to-air missile systems with at least 27 launchers, capable of bringing down high-flying jets, in the Donetsk region where the Malaysian passenger plane crashed, Russian Defense Ministry said.
"According to the Russian Defense Ministry information, units of the Armed Forces of Ukraine located in the crash-site are equipped with anti-aircraft missile systems of "Buk-M1" … These complexes in their tactical and technical characteristics are capable of detecting air targets at ranges of up to 160 kilometers and hit them at full altitude range at a distance of over 30 kilometers," the ministry's statement reads as cited by Ria.
Earlier, Itar-Tass and Interfax news agencies were citing a source familiar with the issue, who said that another battery of Buk systems is currently being prepared for shipment to Donetsk region from the Ukrainian city of Kharkov.
(Read the rest of the story here…)
The Associated Press article floating around the mainstream media in source after source (surely before it gets buried forever) is simply titled, "Rebel Leader Gives Bizarre Account of Plane Crash".
How bizarre, exactly?
A top pro-Russia rebel commander in eastern Ukraine has given a bizarre version of events surrounding the Malaysian jetliner crash — suggesting many of the victims may have died days before the plane took off.

The pro-rebel website Russkaya Vesna on Friday quoted Igor Girkin as saying he was told by people at the crash site that "a significant number of the bodies weren't fresh," adding that he was told they were drained of blood and reeked of decomposition. [emphasis added]
Of course, the commander will be immediately discredited by western-backed establishment media sources simply because of which side of this conflict he politically stands on.
Not the point, however.
Bodies drained of blood and reeking of decomposition at a fresh crash site?
Who would even think to make something like that up in the first place?
This story is only bizarre until you consider the fact that this situation might be staged.
(Read the rest of the story here…)