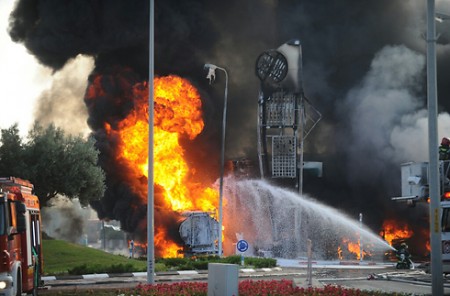 Angry clashes erupted Friday in the West Bank, after Palestinian leaders called for a "day of rage" in response to the shelling of a United Nations shelter that killed 16 people.
At least four Palestinians were killed in outbreaks of violence in several parts of the West Bank, according to medical sources.
The call for a massive follow-up to what were already some of the largest West Bank protests in years came as diplomats scrambled to find a cease-fire proposal that would satisfy mortal enemies Israel and Hamas and end more than two weeks of violence that has claimed more than 800 lives, most of them civilians.
The developments come as Israel and Hamas agreed to a 12-hour humanitarian cease-fire beginning Saturday morning.
(Read the rest of the story here…)
The leader of Lebanon's militant Hezbollah group vowed on Friday to support Palestinian militants battling Israeli troops in Gaza, even as his own fighters are bogged down in the war in neighboring Syria.
In his first remarks on the latest Israeli-Palestinian fighting that erupted on July 8, Hassan Nasrallah warned Israel that it would be "suicide" to continue waging war in the Gaza Strip.
Hezbollah, a Shiite group, has long been one of the closest allies of Hamas, the main Palestinian Sunni faction which controls Gaza. Both militant groups are backed by Iran.
But relations between Hamas and Hezbollah soured following the uprising against President Bashar Assad's rule in Syria, which erupted in March 2011, became an insurgency waged by overwhelmingly Sunni rebels, and later descended into full-blown civil war.
(Read the rest of the story here…)