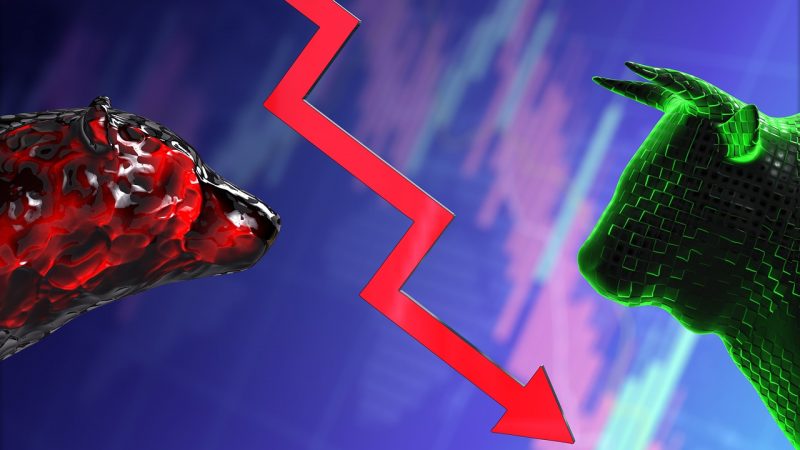 The results from Georgia are going to have enormous implications for the financial markets.  If Democrats win both of the seats that are up for grabs, that will give them control of the Senate, the House of Representatives and the White House.  For the first time since the first two years of Barack Obama's presidency, the Democrats would have an opportunity to advance their agenda without compromising with the Republicans, and that is extremely frightening for investors.  The Democrats have made it very clear that they intend to raise taxes on big corporations and the ultra-wealthy, and that wouldn't be good for the stock market bubble at all.
As I write this article, the two races are still too close to call, and we probably won't know the final results for a while.
But experts are already warning that we could see a huge stock market decline if both Democratic candidates win.  For example, former Trump adviser Steve Moore is warning that the Dow could fall by 1,000 points…
Former Trump senior economic adviser Steve Moore argued on Tuesday, the day voters in Georgia head to the polls for the Senate runoff elections, that a Democratic sweep could lead to the Dow Jones Industrial Average dropping by 1,000 points.
Moore says that he came to this conclusion by examining data from the last 60 years…
"I looked at the evidence of what's happened in the last 60 years or so with respect to the stock market in terms of three different scenarios: One is Republicans control everything in Washington, the second scenario being Democrats control everything in Washington, the third being divided control of power and in general the best scenario for economic growth has been when you have divided power," Moore said.

"The worst scenario over the last 50 or 60 years is when Democrats have control over all the levers of power so I would think the historical record is pretty clear on this, that a Democrat sweep tonight would be bad for markets," he continued.
Oppenheimer's John Stoltzfus is even more pessimistic.  He believes that we could see the stock market drop by a total of six to ten percent if both Democrats win…
That's according to Oppenheimer chief investment strategist John Stoltzfus, who wrote in a note to clients on Monday that investors may be spooked by the prospect of increased corporate taxes and government spending under the Biden administration with a Democratic majority in the House and the Senate.

"A Democratic sweep of the two runoff elections in Georgia could cause the U.S. broad equity market to experience a downdraft of anywhere between 6% and 10%," Stolzfus wrote.
Large corporations were thrilled with President Trump's tax cuts, but Joe Biden has said that he intends to get rid of them.
But in order to do that, Joe Biden needs a Senate that is controlled by Democrats, because a Republican-controlled Senate would never go for what he is proposing…
Biden has repeatedly said he would roll back President Trump's 2017 Tax Cuts and Jobs Act and raise the corporate tax rate to 28% from 21%, restore the top individual tax rate to 39.6% from 37%, tax capital gains as ordinary income, cap deductions for high earners, expand the Earned Income Tax Credit for workers over the age of 65 and impose the Social Security payroll tax on wages above $400,000. Without a Democratic-controlled Senate, those tax hikes are likely off the table.
At this moment, it is not clear who will win, but investors will be watching the results very, very closely.
According to officials in Georgia, we should have a pretty good idea of who won by the middle of the day on Wednesday…
"Depends how close it is, but most likely it'll probably be tomorrow morning. It really depends how many absentee ballots," Georgia Secretary of State Brad Raffensperger told Fox News Tuesday morning.

David Worley, a member of the State Election Board, told The New York Times that if processing goes smoothly, officials will "have a pretty good idea" of who won by 1 a.m. Wednesday.
With so much on the line, spending on these races has reached levels that we have never witnessed before.  The following comes from Zero Hedge…
Roughly $404 million was spent on advertising in the Perdue-Ossoff race, according to Advertising Analytics, making it the most expensive Senate race ever.
Nearly $300 million was spent on advertising in the Loeffler-Warnock race, making it the second most expensive Senate race ever – behind only Perdue-Ossoff.
Can you imagine how much good could have been done if 704 million dollars had actually been spent helping people instead?
Sadly, the game of politics has become all about money these days.  The candidate that raises the most money wins the vast majority of the time, and my advice for anyone that is planning to run for office is to raise as much money as possible.
As for the stock market, the ridiculous bubble that we are witnessing at the moment will inevitably collapse, and it is entirely possible that these election results could be a trigger event.
But whether it happens this week, this month, this year or some time later, there is no possible way that stock prices can stay at such absurdly inflated levels.
Even if the stock market fell 50 percent, stocks would still be overvalued based on historical norms.
Never before in U.S. history have we been more perfectly primed for a stock market collapse, and it isn't going to take very much to push us over the edge.
For the moment, we are watching Georgia, but there will be many more pivotal moments as we continue to roll through the early stages of 2021.
***Michael's new book entitled "Lost Prophecies Of The Future Of America" is now available in paperback and for the Kindle on Amazon.***
About the Author: My name is Michael Snyder and my brand new book entitled "Lost Prophecies Of The Future Of America" is now available on Amazon.com.  In addition to my new book, I have written four others that are available on Amazon.com including The Beginning Of The End, Get Prepared Now, and Living A Life That Really Matters. (#CommissionsEarned)  By purchasing the books you help to support the work that my wife and I are doing, and by giving it to others you help to multiply the impact that we are having on people all over the globe.  I have published thousands of articles on The Economic Collapse Blog, End Of The American Dream and The Most Important News, and the articles that I publish on those sites are republished on dozens of other prominent websites all over the globe.  I always freely and happily allow others to republish my articles on their own websites, but I also ask that they include this "About the Author" section with each article.  The material contained in this article is for general information purposes only, and readers should consult licensed professionals before making any legal, business, financial or health decisions.  I encourage you to follow me on social media on Facebook, Twitter and Parler, and any way that you can share these articles with others is a great help.  During these very challenging times, people will need hope more than ever before, and it is our goal to share the gospel of Jesus Christ with as many people as we possibly can.