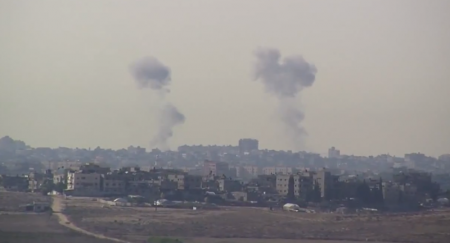 Since the collapse of the cease-fire, Palestinians in Gaza have launched dozens of rockets and mortars at Israel, pounding the western Negev. Ashkelon, Ashdod, and the smaller communities within just a few kilometers of the Gaza border have absorbed the worst barrages since before dawn on Wednesday.
On Wednesday the IDF struck two terror operatives in Gaza who were responsible for earlier rocket fire on Ashkelon and Gaza frontier communities. The forces identified a successful hit on their targets.
Terror groups in Gaza have fired more than 30 rockets since midnight, and the air force struck more than 50 targets. Iron Dome intercepted several projectiles over southern cities and towns, including Ashdod and Kiryat Gat. Approximately 100 rockets have been fired in total since Hamas broke the cease-fire at 3:30 p.m. on Tuesday. Gaza medical officials reported that 16 people have been killed in Gaza since the renewal of hostilities.
Hours after rockets shattered the cease-fire and hit Gaza frontier communities, three loud explosions were heard over Tel Aviv, shortly before 11 p.m., for the first time in over a week.
(Read the rest of the story here…)