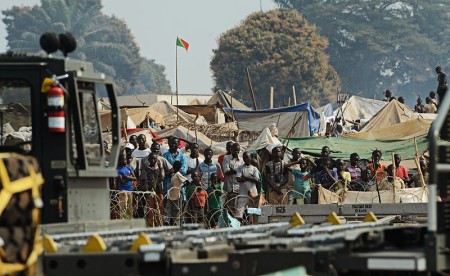 The United Nations High Commissioner for Refugees (UNHCR) Friday reported the number of refugees, asylum-seekers and internally displaced people worldwide has exceeded 50 million people for the first time in the post-World War II era.
The UNHCR annual global trends report, issued on the World Refugee Day,showed as many as 51.2 million people were forcibly displaced at the end of 2013, fully 6 million more than the 45.2 million reported in 2012.
The report said the massive increase was driven mainly by the war in Syria, which at the end of last year had forced 2.5 million people into becoming refugees and made 6.5 million internally displaced. Major new displacement was also seen in Africa, notably in Central African Republic and South Sudan.
"Peace is today dangerously in deficit. Humanitarians can help as a palliative, but political solutions are vitally needed. Without this, the alarming levels of conflict and the mass suffering that is reflected in these figures will continue," the UN High Commissioner for Refugees Antonio Guterres said in a statement.
(Read the rest of the story here…)