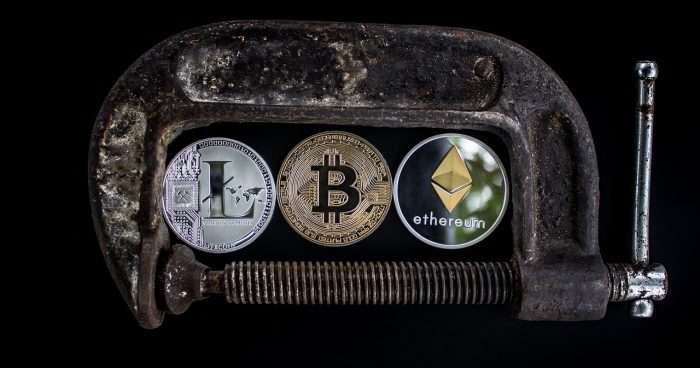 Taxation and regulation are weapons, and governments often use these weapons to target things that they do not like. Cryptocurrencies such as Bitcoin, Ethereum, Ripple and Litecoin threaten to shatter the existing paradigm of financial control that the elite have carefully crafted, and that is making government officials all over the planet very nervous. So the latest rumblings about "government crackdowns" on cryptocurrencies in China and India shouldn't come as any sort of a surprise. Those two governments hate anything that even smells like freedom, and so it was only a matter of time before they pulled the trigger. And the bigger the cryptocurrency bubble becomes, the more national governments around the world are likely to take action to "get it under control".
The reason why I have always been so cautious when it comes to cryptocurrencies is because government intervention is the ever-present elephant in the room. At any time big national governments can step in and ruin the party, and that now appears to be happening in China and India. The following comes from TruNews…
China, arguably the biggest market for cryptocurrencies as many citizens aim to avoid the government-controlled economy, recently released a report that showed more than 400 fake cryptos occupying its domestic marketplace. In response the Ministry of Industry and Information Technology signaled it's going to crack down hard, citing "certain risks that cannot be ignored" with initial coin offerings, pyramid schemes, and fraud.

Simultaneous to that bit of bad news, CoinTelegraph reported the Central Board of Indirect Taxes in India is considering an 18 percent tax on cryptocurrency exchanges, deeming the digital currencies as "intangible goods." Last month the Reserve Bank of India formally banned domestic banks from servicing any cryptocurrency business but that failed to ebb the increase in new exchanges in its marketplace.
Let's talk about India first. As I mentioned earlier, taxation is a weapon, and a massive 18 percent tax is being proposed on all cryptocurrency trading…
The Indian government is in talks of levying an 18% tax on cryptocurrency trading. The knowledge allegedly comes from people with a direct knowledge of the matter.

The news, as reported by Bloomberg, states that cryptocurrencies could be taxed pending their declaration as intangible goods. Even as they are on par with software with respect to their classifications, the source added that their use in illegal activities would have to be regulated using other laws.

The proposal is currently under consideration by the Central Board of Indirect Taxes and Customs and will be submitted to the GST Council after its finalization for approval.
Needless to say, such a tax would absolutely devastate the emerging cryptocurrency industry in India.
In China, in addition to cracking down on "fraud", the government has also come out with a list of their preferred cryptocurrencies…
The Ministry of Industry and Information technology of China has decided to release its own ranking sheet, in which it created a list of 28 cryptos. The cryptos were ranked according to three criteria, which include technology, application, as well as innovation.

According to China, the best crypto seems to be Ethereum (ETH), which is dominating the list. It is closely followed by Steem and Lisk, as well as Neo and Komodo. These five are also making the top 5 according to China. It is surprising that Komodo managed to rank this high since it is a lesser-known platform that holds the 58th place according to market cap. Another one that stands out from the rest is Steem, which does not allow for creating smart contracts, while the rest of them do.
It turns out that Bitcoin was only number 13 on the list.
At least China is not banning cryptocurrencies yet, which many feared that they might do. Cryptos have become wildly popular in China, and even though the Chinese government is one of the most repressive regimes on the entire planet, at least they are trying to be at least somewhat reasonable in this case.
Of course all of this troubling news was going to have a major impact on cryptocurrency prices, and on Wednesday we witnessed quite a bloodbath…
Digital currencies were in free fall Wednesday, with some major coins in the red by more than 10%.

Bitcoin, the world's biggest digital currency, fell through $8,000 late Tuesday and the slide has not abated. Bitcoin tumbled to a multiweek low of $7,442.92. Bounces have been limited, with a single coin last worth $7,528.89, down 7.1% from late Tuesday Eastern U.S. levels on the Kraken exchange.

The collapse in cryptocurrencies has seen the total value of all coins fall to $326 billion, down some $50 billion in just 72 hours, according to Coinmarketcap.
Overall, the value of all cryptocurrencies has fallen nearly 500 billion dollars from a peak of 820 billion dollars in January.
That is not just a crash – that is a cataclysm.
However, it is important to note that cryptocurrencies are still way, way up from where they were a year ago at this time.
So those that got in early are still big winners.
And there are many that believe that cryptos will do extremely well during a "flight to safety" during the next great economic crisis. Omid Malekan, the author of a new book entitled The Story of the Blockchain: A Beginner's Guide to the Technology That Nobody Understands, is entirely convinced that many will view Bitcoin and other cryptocurrencies as very safe alternatives when a coming crisis forces national governments to impose draconian capital controls…
Government officials don't like cryptocoins because they transfer the sovereignty of money from their control to a decentralized consensus mechanism, a transfer that they view as a downgrade in the quality of money. If our existing system of money and banking was always stable, they would have a point.

But every time there is a crisis, it reminds the public that the folks in charge are not as smart as they think they are. When those same leaders respond to the crisis with draconian capital controls (or selective bailouts for their once and future employers on Wall Street) they remind the public that they aren't as fair as they think they are, either. Bitcoin might be volatile and hard to understand, but it's always fair, because math does not discriminate, nor does it change the rules when people start to panic.
In addition, it is very interesting to note that the Rothschild banking dynasty also appears to be investing very heavily in the cryptocurrency industry…
"In February, it became known that the Tether accounts of Bitfinex were opened in the Dutch bank ING, owned by The Rothschild Group. At the same time, the profit indicators of this bank have grown significantly. On February 26th, the Fintech company, Circle, the main shareholder of which is Goldman Sachs (also The Rothschild Group), acquired Poloniex, a US-based crypto exchange", – Zycrypto states.

It has recently come to light that not only Rothschilds dynasty invest in cryptocurrency, they are actively preparing several projects of their own. Private discussions have been sparked among large cryptocurrency investors following the leak which subsequently flowed into the open crypto community. One of the Rothschild's projects name has emerged: IMMO. As Coindoo writes "… the implementation of IMMO is being monitored by Alexandre de Rothschild himself".
Do they know something that the rest of us do not?
In the end, the debate over cryptocurrencies will rage on. The skeptics will continue to point out that cryptos have no intrinsic value and that national governments can end the party any time that they wish. And advocates will continue to point out that government intervention has not ruined the party so far, and that some national governments and some big financial institutions are actually embracing the cryptocurrency revolution.
Ultimately the jury is still out on whether or not this revolution will be successful, and it will be fascinating to see how everything plays out.
Michael Snyder is a nationally syndicated writer, media personality and political activist. He is the author of four books including The Beginning Of The End and Living A Life That Really Matters.