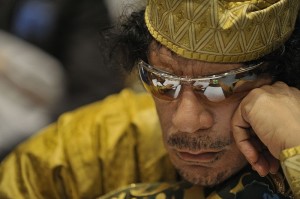 The latest headlines from The Most Important News....
The faltering government of the Libyan strongman Col. Muammar el-Qaddafi struck back at mounting protests against his 40-year rule, as helicopters and warplanes besieged parts of the capital Monday, according to witnesses and news reports from Tripoli.
Libyan military aircraft fired live ammunition at crowds of anti-government protesters in Tripoli, Al Jazeera television reported on Monday, quoting witnesses for its information.
CNN is reporting that two Libyan air force pilots defected to Malta after being asked to bomb citizens.
Large numbers of people are being killed in Libya as anti-government protests have reached the capital for the first time and several cities in the east appeared to be in the hands of the opposition.
Eyewitness reports said that Libyan protesters had torched public buildings in the capital overnight.
On Sunday, the heir-apparent son of its strongman, Col. Muammar el-Qaddafi, warned Libyans in a televised speech that their oil-rich country would fall into civil war and even renewed Western "colonization" if they threw off his father's 40-year-long rule.
There are some media reports that indicate that Qaddafi has actually left Libya at this point.
Although the nation is in deep turmoil, Libya's official state news agency is not reporting any of it online.
Protesters continue to demand the ouster of Yemeni President Ali Abdullah Saleh, despite a government crackdown on demonstrations which has killed at least 22 people.
Palestinians are planning a "day of rage" on Friday in response to the U.S. wielding its veto against a UN security council resolution condemning Israeli settlements.
Iran's supreme leader Ayatollah Ali Khamenei on Sunday called on Muslims to "remove" the U.S. from the Islamic world.
An attempt to foment a Chinese "jasmine" revolution was met with an emphatic show of state power in China after a call to mount public demonstrations against the government was posted on an internet forum.
Protests over a budget bill in Wisconsin are now on the seventh day and total more than 70,000 people with many groups removing their support for Gov. Walker and advocating the recall of Wisconsin elected officials.
No resolution appeared imminent Monday to the stalemate over union rights in Wisconsin that has riveted the country and led to ongoing public protests that have drawn tens of thousands of people.
The average compensation for teachers in the Milwaukee Public School system, when you add up the salaries and benefits, is over $100,000 a year.
As thousands of protesters on both sides of an epic budget standoff in Wisconsin faced off Saturday at the Capitol, alleged doctors were handing out 'fake' sick notes to protesters -- allowing them to call in sick while the budget impasse continues.
Crude oil prices jumped 6% Monday as violent protests spread in Libya, raising the possibility that oil supplies from that OPEC nation could be disrupted.
In fact, Brent Crude soared above $108 a barrel during Monday trading.
Gold burst through $1,400 on Monday morning on escalating political tensions in the Middle East.
Is a U.S. government shutdown on the horizon?
What would a U.S. government shutdown look like?
The prospect of a government shutdown appeared more likely on Saturday after the House passed a budget measure in the pre-dawn hours that cuts $61 billion - and was immediately rejected by Senate Democrats and Barack Obama.
Federal taxes on airline tickets have reached a level that is just obscene.
The average U.S. borrower in the throes of foreclosure hasn't made a mortgage payment in 17 months, up from nearly 11 months two years ago — and the time frame may get even longer.
There is plenty of evidence that the standard of living for the middle class in America is sharply declining.
Wealthy Americans seem to have decided that it's okay to splurge on big ticket items again.
While most Americans are suffering, the Obamas are on vacation once again.
State attorney general's office spokesman Arturo Sandoval said a total of 53 people have been killed in a span of 72-hours in Ciudad Juarez. Sandoval said among the casualties were policemen from three separate departments.
The Utah House has approved an Arizona-style immigration enforcement law after heated debate.
The United Nations is calling for 2% of worldwide income to be invested in the green economy, a move it says would boost jobs and economic growth.
Farmers who plant Monsanto's GM crops probably don't realize what they bargain for when they sign the Monsanto Technology Stewardship Agreement contract. One farmer reportedly 'went crazy' when he discovered the scope of the contract because it transfers ALL liability to the farmer or grower.
Alexander Lebedev, the Russian oligarch, has accused a group of spies and policemen of plotting to steal his multi-billion pound business empire in an open letter to Vladimir Putin, the prime minister.
Hundreds of people fled homes and farms in central Philippines on Monday after a volcano spewed a 2km-high column of ash covering several villages, officials said.
Is Germany's "supervolcano" awakening?
A moderate earthquake struck Baja California on Sunday morning, with shaking felt up to San Diego. No major damages or injuries were reported, authorities said.
The Maryland Republican Party is urging residents to pressure state senators to vote against a bill legalizing gay marriage, which is expected to come up for debate this week.
Attorney Dori Spivak was appointed on Friday as a judge in the Tel Aviv Labor Court. He is the first openly gay judge appointed in Israel.
A hardline Muslim cleric who sparked anger across the U.S. with his anti-American comments in a television interview this month is to hold a protest outside the White House.
Defense Secretary Robert Gates said the Pentagon does not yet know how many troops will draw down from Afghanistan this year. Instead, the Defense Department is budgeting to hold level at 98,000 troops through 2012.
In Afghanistan right now, a one-legged Afghan Red Cross worker named Said Musa is sitting in a prison cell awaiting his execution.  Musa, a father of six children, was arrested by the Afghan government as he attempted to seek asylum at the German embassy last year.  He was sentenced to death by an Afghan court that was established by the new Afghan government that the United States worked so hard to set up.  He has been tortured and sexually abused for months.  An Afghan judge has told him that he will be hung within a matter of days.  So what was his crime?  He was a Muslim that has become a Christian.
Comments
comments
1 Response » to "Hundreds Of Protesters Slaughtered As Libya Teeters On The Brink Of Civil War"