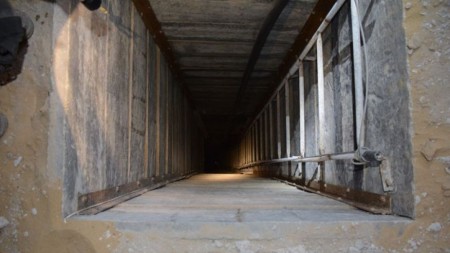 The IDF has destroyed Hamas's flagship terrorism project; its network of cross-border tunnels that snuck under the border into Israel. The military also began to pull its forces out of the Gaza Strip on Saturday evening.
Hamas has spent five years preparing this strategic threat; the IDF wrecked 31 tunnels in two weeks. By Sunday, all of the tunnels the IDF knew about, or discovered during the offensive, will be destroyed. A few tunnels that Israel doesn't know about may remain intact.
Many of the underground passages were designed to send heavily armed murder squads into Israeli villages for killing sprees, and attack army positions from behind. They were filled with weapons, explosives, and equipment, enabling terrorists dressed in civilian clothing to disappear into a shaft in Gaza, and emerge in Israel, disguised as IDF soldiers and fully equipped to carry out a mass casualty attack. The IDF has discovered motorcycles in some of the tunnels, which were earmarked by Hamas for rapid raids into Israel and subsequent retreats back into Gaza.
(Read the rest of the story here…)