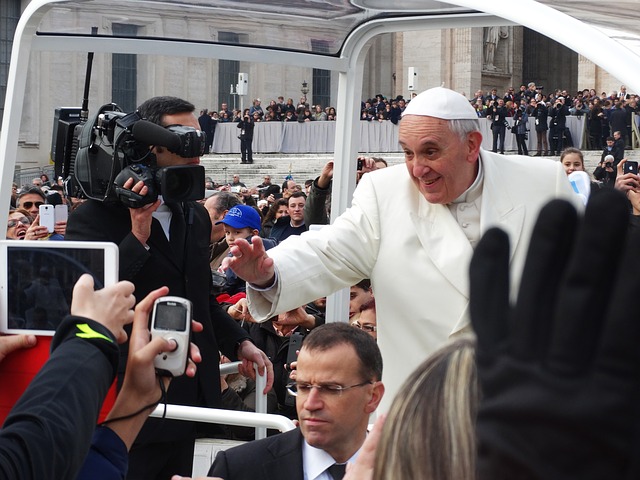 Remarks made by Pope Francis at St. Patrick's Cathedral in Manhattan have sparked a firestorm of criticism from those that do not believe that Christians and Muslims worship the same God. Many have taken the Pope's remarks as a major step in the direction of a one world religion, and the truth is that the Pope has made other such statements in the past. In recent years, the theory that Christianity and Islam are just two distinct paths to God among many others has rapidly gained traction all over the planet. Some religious leaders have even gone so far as to try to merge Islamic and Christian practices, and the term "Chrislam" is now often used to describe this ecumenical movement. If all this sounds incredibly strange to you, just keep reading, because this is just the tip of the iceberg.
What Pope Francis had to say at St. Patrick's Cathedral in Manhattan has received very little coverage by the mainstream media, but it was exceedingly significant. The following is how he began his address…
I would like to express two sentiments for my Muslim brothers and sisters: Firstly, my greetings as they celebrate the feast of sacrifice. I would have wished my greeting to be warmer. My sentiments of closeness, my sentiments of closeness in the face of tragedy. The tragedy that they suffered in Mecca.

In this moment, I give assurances of my prayers. I unite myself with you all. A prayer to almighty god, all merciful.
He did not choose those words by accident. In Islam, Allah is known as "the all-merciful one". If you doubt this, just do a Google search.
And this is not the first time Pope Francis has used such language. For instance, the following comes from remarks that he made during his very first ecumenical meeting as Pope…
I then greet and cordially thank you all, dear friends belonging to other religious traditions; first of all the Muslims, who worship the one God, living and merciful, and call upon Him in prayer, and all of you. I really appreciate your presence: in it I see a tangible sign of the will to grow in mutual esteem and cooperation for the common good of humanity.

The Catholic Church is aware of the importance of promoting friendship and respect between men and women of different religious traditions – I wish to repeat this: promoting friendship and respect between men and women of different religious traditions – it also attests the valuable work that the Pontifical Council for interreligious dialogue performs.
Pope Francis clearly believes that Christians and Muslims worship the exact same God. And so that helps to explain why he authorized "Islamic prayers and readings from the Quran" at the Vatican for the first time ever back in 2014.
Catholicism and Islam are the two largest religions on the entire planet, and so any one world religion would need to incorporate both of those belief systems. Sadly, this Pope seems to be quite eager to lay the groundwork for such a one world religion.
Pope Francis made another statement at St. Patrick's Cathedral that has shocked believers all over the planet. Apparently this Pope seems to think that the cross was a "failure"…
The cross shows us a different way of measuring success. Ours is to plant the seeds. God sees to the fruits of our labors. And if at times our efforts and works seem to fail and not produce fruit, we need to remember that we are followers of Jesus Christ and his life, humanly speaking, ended in failure, the failure of the cross.
After he made that statement, he didn't continue to go on and explain that the cross was ultimately a great victory. He just ended his thought and moved on to other topics.
Needless to say, many are extremely upset by this. The following comes from Leo Zagami of Infowars.com…
These words have of course outraged most true Christians around the world who cannot imagine Christianity without the value of the cross, which symbolizes the ultimate sacrifice of Jesus for mankind. It's impossible for a Christian of any denomination to imagine the very essence of their faith being discussed in this way, let alone by the Pope. The fact that blood was shed on the cross by Jesus for the ultimate self-sacrifice that could help rid mankind of all sins is one of those essentials of the Faith that should never be questioned.

The mainstream media persists with their undying affection for Pope Francis, never commenting on this outrageous statement.
But even though the Pope is saying things like this, his legend just seems to grow by the day. Even in the United States, throngs of faithful devotees are treating him like he is some sort of supernatural being…
Everywhere he goes, Pope Francis attracts worshipful crowds of people, straining and reaching to touch any part of him as if something spiritual and holy could be imparted to them by doing so. People weep, they cry, they hold up their sick children and beg him to touch them in the hopes they will be healed.
And this is even true of members of Congress. Just check out the disgraceful behavior that some of them have displayed…
Representative Bob Brady, a devout Catholic and Democrat from Pennsylvania immediately made his way to the podium after Pope Francis finished speaking and grabbed the glass that was still filled with water. He then drank the water, gave some of the water to his wife Debra, and saved the rest for his grandchildren. Representative Brady took photos as well, and had his staff send them out to the press. He also shared some of the water with members of his staff and assistant, also a devout Catholic. As for the saved water, he plans to sprinkle it on his grandchildren and one great-grandchild.
I don't know about you, but major alarm bells start going off for me when I read stuff like this.
We are witnessing the initial stages of the rise of a one world religion, and much of the planet is ultimately going to embrace it.
So what do you think about these recent comments by the Pope?
Please feel free to add to the discussion by posting a comment below…
(Originally published on The American Dream)