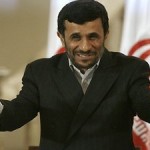 The most important news for Monday, June 15th, 2009…..
Cities throughout Iran have erupted with violence and massive protests in the wake of "questionable" election results which show President Mahmoud Ahmadinejad with an overwhelming majority of the vote in Iran's presidential election.
Iranian President Mahmoud Ahmadinejad is declining to guarantee the safety of his defeated rival Mir Hossein Moussavi.  Should we be surprised by this?
The Huffington Post has published a disturbing article that calls evangelical Christianity the number one source of domestic terrorism in the United States and that calls on the Secret Service and the FBI to investigate and "infiltrate" pro-life and evangelical Christian groups.
A CBS News writer is asking this question: "Isn't it time we started rounding up promoters of hate before they kill?"  I don't know about you, but when journalists talk about "rounding up" certain groups, it makes me look over my shoulder to see if the brownshirts are coming.
Israeli Prime Minister Benjamin Netanyahu publicly endorsed an independent Palestinian state during his major foreign policy speech over the weekend.  What in the world is Netanyahu thinking?
Scientists fear that Ug99, a devastating wheat fungus also known as stem rust, could potentially wipe out over 80 percent of the world's wheat crop as it spreads from Africa.
China's growing middle class is increasingly challenging the country's one-child policy.  More of them are having two or more children than ever before.  Good for them!
The Obama administration says that a big step towards fixing our financial problems is to give the Federal Reserve dramatically increased powers.  Isn't this kind of like fixing a fire by pouring gasoline on it?
The sick and deluded regime of dictator Kim Jong-il says that it is now in the "early phase of all-out confrontation with the U.S."  How will Barack Obama respond to this threat?
A Japanese company has invented a car that runs on water.  Why isn't this technology being promoted in the United States?
The swine flu is sweeping across Australia, and health experts there are becoming very, very concerned.
A great new documentary on how we produce what we eat entitled "Food, Inc." opens this week.  After you watch it, however, you may never look at your dinner the same way again.
The CDC is ramping up for a massive swine flu immunization program.  Oh goody!
NASA is making a special effort to celebrate Lesbian, Gay, Bisexual and Transgender (LGBT) "Pride" Month.
A growing number of churches across the United States are now facing foreclosure because of hard economic times.
Dozens of cities throughout the United States may have entire neighbourhoods bulldozed as part of a new "shrink to survive" proposal being considered by the Obama administration to tackle economic decline.
Lastly, a prom held recently at Boston City Hall that was open to children apparently as young as 12 years old was described as a "prom from sexual hell".  It reportedly featured crossdressers, homosexual heavy petting, suspected drug use and a leather-clad doorman who teaches sexual bondage classes.