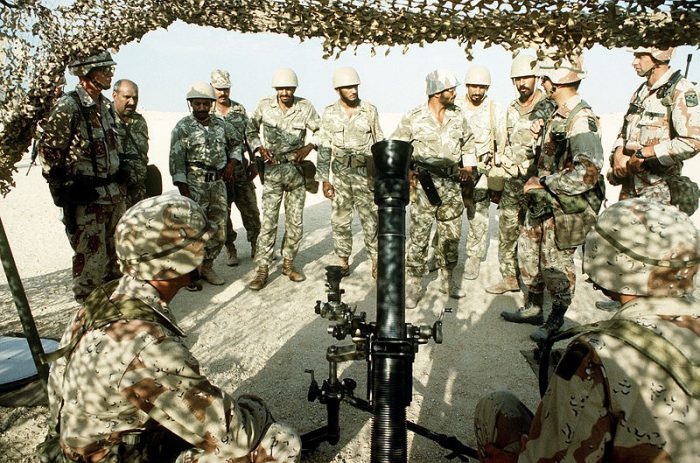 Is a major war in the Middle East looming on the horizon? Most of us living in the western world simply do not realize how much Saudi Arabia and Iran truly hate one another. Saudi Arabia is the global center for Sunni Islam, and Iran is the global center for Shia Islam, and the two major sects of Islam have a history of bad blood that literally goes back for over a thousand years. The Saudis and the Iranians are already engaged in "proxy wars" in Syria and in Yemen, and now a missile that was fired at Riyadh's international airport threatens to turn the conflict between the two regional powers into a hot war.
If you are tempted to think that I am exaggerating one bit, just consider what the New York Times is saying about this…
Saudi Arabia charged Monday that Iran had committed "a blatant act of military aggression" by providing its Yemeni allies with a missile fired at the Saudi capital over the weekend, raising the threat of a direct military clash between the two regional heavyweights.

The accusations represent a new peak in tensions between Saudi Arabia and Iran at a time when they are already fighting proxy wars in Yemen and Syria, as well as battles for political power in Iraq and Lebanon.
And Yahoo is reporting that the Saudis are saying that this missile attack "may amount to an act of war"…
On Monday, a Saudi-led military coalition battling Tehran-backed rebels in Yemen said it reserved the "right to respond" to the missile attack on Riyadh at the weekend, calling it a "blatant military aggression by the Iranian regime which may amount to an act of war".

Saudi Foreign Minister Adel al-Jubeir also warned Tehran.

"Iranian interventions in the region are detrimental to the security of neighbouring countries and affect international peace and security. We will not allow any infringement on our national security," Jubeir tweeted.
For those that have not grasped the implications of what I am saying yet, let me break this down very simply for you.
If Saudi Arabia and Iran go to war, the United States will be involved in that war on the side of the Saudis.
It would be a war unlike anything we have ever seen in the history of the Middle East, and it is almost a certainty that weapons of mass destruction would be used in such a war.
Essentially, what we are talking about is the potential for World War III to erupt in the Middle East.
And all of this comes at a time when the biggest "purge" in the modern history of Saudi Arabia is taking place…
A campaign of mass arrests of Saudi Arabian royals, ministers and businessmen expanded on Monday after a top entrepreneur was reportedly detained in the biggest anti-corruption purge of the kingdom's affluent elite in its modern history.

The reported arrest of Nasser bin Aqeel al-Tayyar followed the detention of dozens of top Saudis including billionaire investor Prince Alwaleed bin Talal in a crackdown that the attorney general described as "phase one".

The purge is the latest in a series of dramatic steps by Crown Prince Mohammed bin Salman to assert Saudi influence internationally and amass more power for himself at home.
Some would say that the Saudis are "cracking down on corruption", while others would say that Crown Prince Mohammed bin Salman is "consolidating power" prior to going to war.
In any event, this situation deserves our full attention, because it could ultimately result in a major regional war in which the United States is directly involved.
Michael Snyder is a Republican candidate for Congress in Idaho's First Congressional District, and you can learn how you can get involved in the campaign on his official website. His new book entitled "Living A Life That Really Matters" is available in paperback and for the Kindle on Amazon.com.