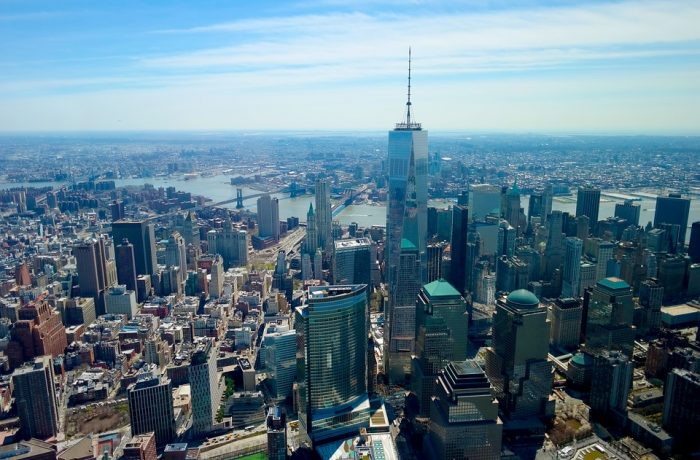 Terror has just struck New York City once again. On Tuesday afternoon, a "Middle Eastern man" shouting "Allahu Akbar" used his truck as a weapon in Lower Manhattan near the World Trade Center. After careening on to a bike path and hitting numerous bikers and pedestrians at high speed, he was finally stopped after his truck rammed into a school bus. The suspect was shot twice by the police, but according to Fox News he is expected to survive…
At least six people are dead after a driver barreled into a bike path and crashed a rental pickup truck into a crowd in Lower Manhattan Tuesday afternoon, shouting "Allahu Akbar," law enforcement sources tell Fox News and The Associated Press.

Another nine people were injured, authorities said. Police tweeted that one person — who police shot twice — has been taken into custody and is expected to survive. Police added that there are "no others outstanding."
Since that Fox News report came out, the death toll has been updated.
At this point at least 8 people are dead, and there is still a possibility that number could go higher.
Clearly, we now know that this was an act of Islamic terror. But initially many mainstream news outlets scrubbed any reference to Islamic terror completely from their reports. For example, this is how USA Today described the attack…
A motorist in a rented pickup truck plowed through a busy bicycle path near the World Trade Center memorial in Lower Manhattan on Tuesday and fatally struck several people, then emerged screaming and brandishing "imitation firearms" before he was shot by police.

The afternoon incident began with a driver careening on to a pedestrian walkway and bike path, running over pedestrians and bikers, the New York police said via Twitter. Witnesses described a horrific scene with people diving from the path of the speeding truck.
Reading that report, you would have absolutely no hint as to what the motivation for the attack was. It is this kind of political correctness that drives me up a wall.
And guess what?
ISIS had actually warned that an attack was coming on Halloween ahead of time…
A pro-ISIS media group circulated an image today of a knife dripping blood over the Eiffel Tower, calling on lone jihadists to attack on Halloween.

"Enjoy their gathering," reads the text superimposed over the image. "Terrorize October 31."

Added was the hashtag #Paslechoix: "no choice." Below that was the message, "Get out before it's too late."
These kinds of terror attacks are a way to become instantly famous, and that is what terrorists ultimately want.
They want to create fear, and they want their acts of terror to get as much attention as possible.
Over the past couple of years, vehicle attacks have become increasingly popular among Islamic terrorists. Just consider the following examples…
The first high profile vehicular attack took place on Bastille Day in Nice, France, when a Tunisian born man inspired by ISIS ran down hundreds of people, killing 84. The tactic then appeared again when a Tunisian asylum seeker plowed a truck into a Berlin Christmas market in December 2016, and when a Somalian-American national plunged his car into students at Ohio State University in November 2016.

London since this time has been hit twice by vehicular terrorist attacks in 2017, both in crowded tourist areas killing more than a dozen. The last major vehicular terrorist attack in the West occurred in Barcelona in mid-August when a young jihadist terror cell rented van that plowed into Las Ramblas, a well known tourist site.
From now on, whenever you are in a crowded area in a major western city you will need to be aware of the potential for an attack.
Overall, the number of Islamic terror attacks continues to increase year after year. According to one site that tracks these things, in 2017 there have been "1749 Islamic attacks in 57 countries, in which 12443 people were killed and 12440 injured."
Islamic terrorists have declared war on our way of life, and they have no problem with using violence to achieve their goal of world domination.
Sadly, many of our politicians won't even use the term "Islamic terror" anymore, and many of them do not even understand that these radical terrorists have declared an unending war on us.
We need leaders that get the fact that Islamic terror is a fundamental threat to our society. I am so glad that President Trump is so focused on confronting terrorism, and I will be the exact same way when I go to Congress.
Many of us in the western world simply do not understand what would motivate these terrorists to willingly lay down their lives. These jihadists are entirely convinced that they are contributing to the ultimate global triumph of Islam, and they also believe that they will be greatly rewarded in the afterlife for their actions.
The term "Islam" originally comes from a root word that means "submission" or "surrender". And that is precisely what all of us would be expected to do if the radical jihadists ultimately have their way. Either we would be expected to convert to Islam, or we would suffer the consequences.
Islamic terrorism is a deeply insidious ideology, and we must never back down in our fight against it.
Michael Snyder is a Republican candidate for Congress in Idaho's First Congressional District, and you can learn how you can get involved in the campaign on his official website. His new book entitled "Living A Life That Really Matters" is available in paperback and for the Kindle on Amazon.com.