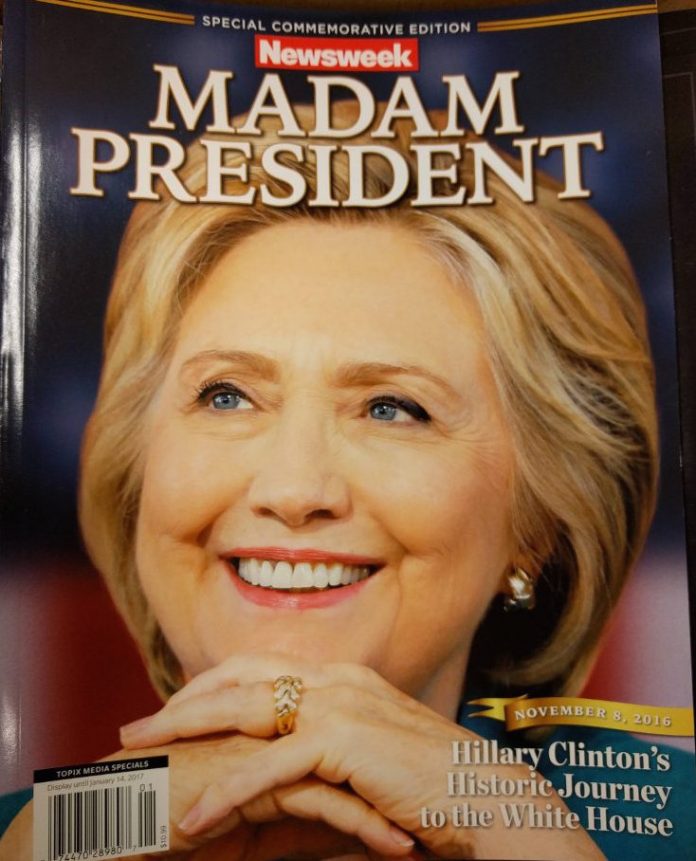 (by Caleb Stephen of the CALEBREPORT.COM) – Just days before the U.S. presidential election on the 8th of November, thousands of copies of a Newsweek 'commemorative edition' claiming a Hillary Clinton victory have been printed in readiness to distribute to newsstands and stores around the world.
Printing large numbers of magazines declaring the winner ahead of the official, conclusive results is reportedly unheard of due to the high cost and risk associated. Normally draft versions of both candidates winning would be made in a PDF (offline) version, with printing and distribution only happening after the results have been called.
According to a Newsweek employee who leaked the photos, there were no Trump versions produced.
This latest revelation confirms that the mainstream media, in cahoots with the Clinton Campaign, have planned for a Hillary victory all along. Despite Clinton and Obama's incessant denials and dismissals of such allegations made by Trump and conservative commentators, it appears that we have been vindicated yet again.
I could not believe my eyes when I first saw the photos of the magazine. While analysing the back cover, it soon became very clear that the Democratic establishment and the globalist elite have this whole thing pre-planned and totally rigged. The numbers have been fudged. The results have been fudged.
The back cover title 'President Clinton' implies the election's already been won by her.
Here's some further alarming lines from the back cover…
"On election day, Americans across the country roundly rejected the kind of fear and hate-based conservatism peddled by Donald Trump and elected the first woman in U.S. history to the presidency."
"MADAM PRESIDENT: The final frontier for American politicians was the presidency, and Hillary Clinton was able to win the most contentious election ever for the honor of crossing it."
The blurb also calls supporters of Trump, 'most deplorable' and accuses them of going 'lower' while Hillary's supporters 'went high.'
The hard-core left-wing, nefarious globalist elite's agenda is certainly shining out of this bright and clear.
(You can find the original article by Caleb Stephen right here)