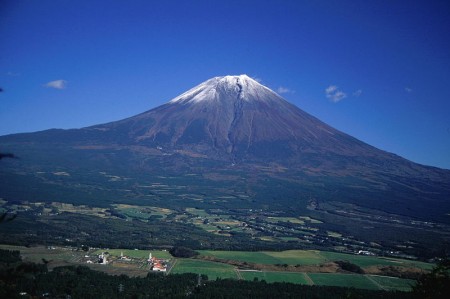 Mount Fuji, or Fujisan as it is known in Japanese, is the highest point on the archipelago (rising to 3,776 metres) and the national emblem, immortalised in countless etchings. In June last year Unesco added it to the World Heritage list as a "sacred place and source of artistic inspiration". But it is still an active volcano, standing at the junction between the Pacific, Eurasian and Philippine tectonic plates. Though it has rarely stirred in recorded history, it is still potentially explosive.
The Tohoku – or Great East Japan – earthquake on 11 March 2011 triggered a devastating tsunami, which in turn caused the Fukushima Daiichi nuclear disaster. According to a Franco-Japanese study published by Science (PDF), the magnitude-9 tremor also increased the pressure on Mount Fuji. "Our work does not say that the volcano will start erupting, but it does show that it's in a critical state," says Florent Brenguier, a researcher at the Institute of Earth Sciences (IST) in Grenoble, France, and lead author of the publication, to which the Institute of Global Physics (IPG) in Paris also contributed.
Adopting a novel approach, the scientists carried out a sort of giant echo-scan of the bowels of the Earth, based on the huge mass of data recorded after the mega-quake by Japan's Hi-net system, the densest network in the world, with 800 seismic sensors. They focused on signals commonly known as seismic noise, the result of constant interaction between ocean swell and "solid" earth. In the past such data has generally been dismissed as background interference.
(Read the rest of the story here…)