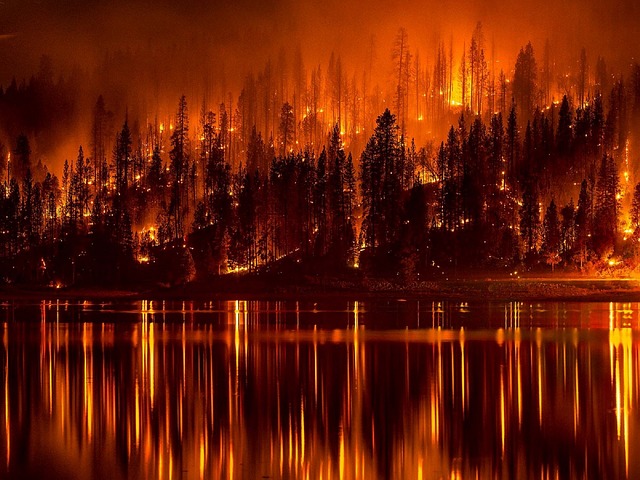 Never before have so many acres burned in America up to this point in the year. I just went and checked the latest numbers from the National Interagency Fire Center, and it turns out that we are now on pace for the worst year for wildfires in all of U.S. history. So far in 2015, wildfires have burned an astounding 9,799,866 acres. Before this, the worst year for wildfires was in 2006 when a total of 9,506,582 acres had burned through November 13th. When I last reported on this, we were still behind 2006's record pace, but now we have surged ahead of it. Overall, the average for the last 10 years for the number of acres burned in the U.S. through November 13th is 6,464,947, and so we are more than 50 percent ahead of that pace right now. Clearly, what we have been experiencing is highly unusual. Could it be possible that this is some form of judgment on America?
In August and September, all of a sudden it seemed like major fires were erupting all over the western third of the United States. I know, because at one point a huge fire came to within 10 miles of my own house. Fortunately, no homes were damaged in my area, but in other parts of the country a tremendous amount of property was destroyed.
Following the unusual fires of August and September, we moved into a time of crazy flooding. The storm that would became known as Hurricane Joaquin formed into a tropical depression on September 28th, which also happened to be the date of the fourth blood moon. Moisture from that storm dumped unprecedented amounts of rain along many areas of the east coast. In fact, it got so bad that South Carolina Governor Nikki Haley said that it was the most rain that her state had seen "in a thousand years".
Of course it wasn't just the east coast that got hit by flooding. We also watched flash floods cause "rivers of mud" to completely bury vehicles along roads in southern California, and freak flooding in the state of Texas derailed a train and caused several deaths. I covered more of the details in my previous article entitled "Why Is This Happening? Unprecedented Flooding Has Hit The U.S. Within The Last 30 Days".
On top of the fires and the floods, we have also seen an unusual amount of seismic activity lately. Oklahoma has already set a brand new state record for the number of earthquakes in a year, there have been notable earthquakes in Arizona and Alaska during the past 30 days, and a record-setting swarm of nearly 600 earthquakes in little San Ramon, California (just 45 miles from San Francisco) made headlines all over the world. For much more on all of this shaking, please see my previous article entitled "Swarm Of California Earthquakes Continues A Series Of Unusual Events That Began In Late September".
Of course now we are dealing with a major terror scare. The vicious attacks in Paris were unlike anything that France has seen in the post-World War II era, and an international soccer match that Angela Merkel was scheduled to attend was canceled due to "concrete intelligence that someone wanted to set off an explosive device inside the stadium". Hundreds of millions of people in the western world are totally freaked out right now, and everyone is wondering where the terrorists will strike next.
Individually, each one of the things that I just mentioned may not seem particularly earth-shattering. After all, there are always fires and floods and earthquakes. But when you start putting the pieces together, a very disturbing puzzle begins to emerge.
Could it be possible that we are witnessing a pattern of judgment that began in the August/September time frame?
In the Scriptures, we see that there is often a progression to judgment. For example, if you go back to the book of Exodus, God didn't hit the Egyptians with the worst plague first. Rather, there was a progression to the plagues that built up to a crescendo at the end.
Could it be possible that a similar pattern is starting to play out right in front of our eyes?
If it is, it won't take us long to find out. If these fires, floods, earthquakes, etc. are all part of a larger pattern, we should expect to see even worse events in the not too distant future.
So let's watch and see what happens.
In the legal world, there is always a pronouncement of guilt before a sentence is administered. And I believe that the months leading up to the August/September timeframe represented a period of time when America was being shown her guilt.
For example, I believe that it was no accident that the undercover Planned Parenthood videos came out when they did. The entire world got to very clearly see that we are slaughtering millions of babies, chopping them up into pieces, harvesting their organs, and selling off those organs to the highest bidder. We were very clearly shown our guilt, and the American people were given a final opportunity to repent.
But instead of repenting, the American people continue to run toward wickedness and evil. Even after watching all of the undercover videos that came out, one survey found that only 29 percent of all Americans want to cut off federal funding for Planned Parenthood.
That survey absolutely stunned me. The people answering the survey were not asked if Planned Parenthood should be totally shut down. No, the only question was whether or not we should continue giving them hundreds of millions of taxpayer dollars a year. And when confronted with that question, less than 30 percent of all Americans wanted to end our funding of Planned Parenthood's crimes against humanity.
Just after that survey was released, I got the opportunity to go on a major television show that is broadcast all over North America, and I publicly declared that America is finished.
And since that time, we have definitely witnessed a series of disasters that is very, very unusual.
So is this the judgment of God on America?
If so, is there much worse to come?
Please feel free to share what you think by posting a comment below…
(Originally published on End of the American Dream)