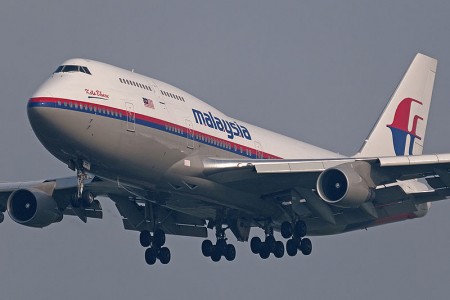 A surface-to-air missile struck a Malaysia Airlines plane carrying 295 people that went down today in Ukraine near the Russian border, a U.S. official told ABC News.
The official said U.S. intelligence and analysis of the situation determined that it was a single missile that struck the Boeing 777 aircraft while at cruising altitude. It is unclear whether the missile was fired from inside Ukrainian or Russian territory and who fired it, the official added.

ABC News | ABC Sports News
Malaysia Airlines Flight MH17 was traveling from Amsterdam to Kuala Lampur with 280 passengers and 15 crew members. It is not known if there were any Americans on board.
Speaking in Detroit, Vice President Joe Biden said the plane had "been shot down, not an accident. Blown out of the sky."
"We see reports that there may have been American citizens on board," he added. "Obviously, that's our first concern. We're working every minute to try to confirm those reports as I speak."
(Read the rest of the story here…)
A Malaysia Airlines passenger plane was reportedly shot down by militants, killing everyone aboard, in Ukraine near the Russian border Thursday.
Ukrainian President Petro Poroshenko called it a "terrorist act," reported Interfax.
Anton Gerashenko, an adviser to Ukraine's Interior Minister, said on Facebook that the Boeing 777-200ER was flying at an altitude of 33,000 feet when it was hit by a missile fired from a Buk launcher, according to the Ukrainian news agency.
A Reuters reporter said that 23 U.S. citizens died in the crash.
It came down just 20 miles short of entering Russian airspace near the city of Donetsk, in an area where the Ukrainian government has been fighting pro-Russian rebels.
(Read the rest of the story here…)