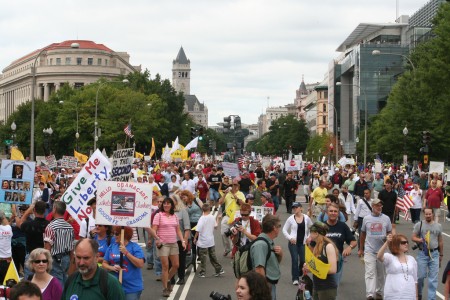 In the upcoming first-person shooter Battlefield Hardline, players will shoot and kill racist anti-government Tea Party types, Gadsden flag and all.
Gamers got their first look at Battlefield Hardline's singleplayer campaign, from developer Visceral Games and publisher Electronic Arts, at the Gamescom gaming convention in Cologne, Germany, on Wednesday, but the reveal included an unexpected partisan shot across the bow of conservative gamers. The Battlefield series, created by Swedish development studio DICE, has been largely apolitical since its first installment was released in 2002, but that appears to have changed with Visceral Games taking the lead on the latest release.
The Hardline demonstration opens with the player character, Nick Mendoza, and his partner Marcus Boone meeting with a criminal contact, Tony Alpert. The situation soon turns sour as it's revealed the meeting is a setup to capture Mendoza and deliver him to a crime boss. Imprisoned in a decommissioned missile silo, Mendoza must escape his captors and sneak through the underground bunker to gain his freedom.
Along the way, Alpert can be heard ranting over the complex's PA system, proclaiming himself a "one man island of armed sovereignty" and complaining about how "bilge… is pumped into young minds" by educators across "these once-united states" that has led to the "denigration, the humbling, the tearing down of everything that made this country great."
(Read the rest of the story here…)