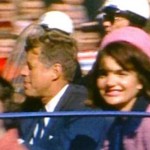 The most important news for Wednesday, June 24th, 2009…..
Shocking new high definition footage of JFK's murder that has been stabilized and filtered PROVES that he was shot at point blank range by his driver.
South Carolina Governor Mark Sanford admitted on Wednesday that he had secretly flown to Argentina to visit a woman with whom he was having a sexual affair.
H.R. 675 allows law enforcement officers of the Department of Defense to execute warrants, make arrests, and carry firearms.
The number of swine flu deaths in New York City has climbed to 32.
Germany's federal agency for infectious diseases has announced that there are signs that the H1N1 swine flu virus has started to mutate.
The ironic thing about these Iran election protests is that the candidate that the media is celebrating, Mir-Hossein Mousavi, was directly involved in the attack on the Marine Corps barracks in Beirut in the 1980s.
General Motors has announced that they are going to cut 4,000 more white-collar jobs.
Remember how the new administration was not going to raise our taxes?  Well, the reality is going to be quite the opposite.
Newly released tapes reveal that Richard Nixon approved of abortion for mixed race babies.  How messed up is that?
The Washington Post has a very disturbing headline today: "Fading Of The Dollar's Dominance".
Have you ever heard of Pinwhale?  It is the NSA database that reads all of your email. 
The United Nations lavishly praised drug decriminalization in its annual report on the state of global drug policy.
According to LifeWay Research, membership in Southern Baptist churches will fall nearly 50 percent to around 8.7 million Americans by the year 2050 if current trends continue.
Locusts swarms are destroying crops in seven regions across Ethiopia.
MySpace is massively cutting the size of its workforce.  Perhaps if their site was not so slow and not such a complete mess people would actually use it again.
Lastly, doctors are absolutely baffled by a 16-year-old girl that does not age.