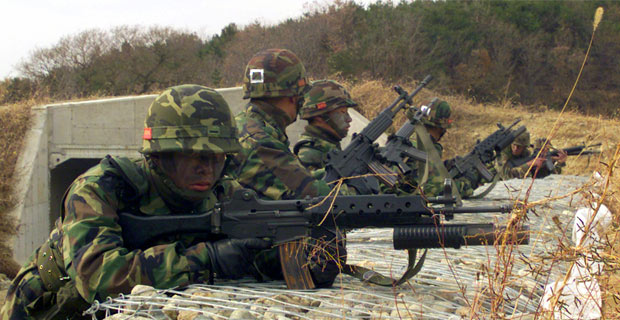 Troops from the rival Koreas exchanged gunfire Sunday along their heavily fortified border in the second such shooting in less than 10 days, South Korean officials said.
There were no reports of injuries or property damage, but the 10 minutes of shooting highlighted rising tensions between the divided countries.
The Koreas' first exchange of gunfire came after North Korea opened fire at balloons carrying anti-Pyongyang leaflets that were floating across the border from the South. Sunday's shootout began after North Korea sent soldiers close to the border line. The move was an attempt by the North to increase worries in the South about what might happen if leafleting continues, analysts say.
South Korean activist groups, mostly made up of North Korean defectors, have been staunch in their vows to continue sending the leaflets, which Pyongyang considers propaganda warfare; one group says it will float about 50,000 on Saturday. North Korea has warned it will take unspecified stronger measures if leafleting continues.
(Read the rest of the story here…)