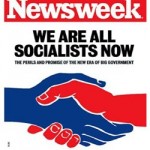 The most important news for Wednesday, June 17th, 2009…..
Barack Obama's new plan would give the government new powers to seize key companies whose failure would "jeopardize" the financial system.
President Obama is also predicting that unemployment will hit 10% this year.
In addition, word has gotten out that the Obama administration plans to extend benefits to same-sex partners of federal employees.
North Korea is warning of a "thousand-fold" military retaliation against the U.S. and its allies if it is provoked.
Baxter International Inc. plans to deliver a swine flu vaccine to the WHO by the end of July.  Isn't that convenient?
Critics of the NSA are claiming that its recent intercepts of the private telephone calls and e-mail messages of ordinary Americans are broader than previously acknowledged.
A CBS News editorial is urging Internet providers to take down "hate speech" off of the Internet.  But who will determine what "hate speech" is?
A new State Department report says that the global financial crisis is forcing millions into extreme poverty and is boosting the supply and the demand for human trafficking all over the world.
Could extinct animals actually be brought back to life thanks to advances in DNA technology?
The next story is rather bizarre.  Thanks to some help from some mysterious crop circles, a massive prehistoric ceremonial complex a thousand years older than Stonehenge has been discovered in southern England.
As the hysteria over global warming grows continues to grow, a few scientists are actually considering radical reengineering of the earth's climate.  That sounds like a really, really bad idea.
Now the influenza H1N1 pandemic is spreading like wildfire across the Middle East.
Uh oh…..Brazilian scientists have identified a new strain of the H1N1 virus.
A shocking new study has shown that the bird flu virus can survive for up to two years in the bodies of dead, buried birds.
Oh goody…..now residents of the U.K. get to pay a "broadband tax".
A new report from the U.N. reveals that the number of people driven from their homes by war is at an all-time high.
The Obama administration has confirmed that it had asked Twitter to help anti-government protesters in Iran.
A new investigative report reveals that sexual diseases are "rampant" in the Californian porn industry.
The state sovereignty movement in gaining a lot of momentum in the western states.
Lastly, gunshot executions in Beijing, China are being replaced with "more humane" lethal injections that will be administered by mobile execution vans.  Are you starting to understand what underground Christians there have to face on a daily basis?