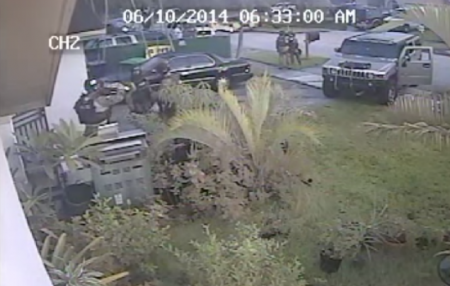 At approximately 6:16 am on June 10th, 2014, Kari Edwards and her live-in boyfriend were seized upon by a SWAT team who smashed in the door and using flashbangs and armed to the teeth, swarmed upon the couple and even stripped Ms. Edwards naked in the process.
The couple says that the group entailed personnel from DHS, for whom Edwards once worked. After smashing in the door, the tactical team threw in flashbang grenades, traumatizing their cat and swarmed upon Edwards's boyfriend and Edwards who had just gotten out of the shower.
"They busted in like I was a terrorist or something," Edwards said.
"[An officer] demanded that I drop the towel I was covering my naked body with before snatching it off me physically and throwing me to the ground."
"While I lay naked, I was cuffed so tightly I could not feel my hands. For no reason, at gunpoint," Edwards said. "[Agents] refused to cover me, no matter how many times I asked."
(Read the rest of the story here…)