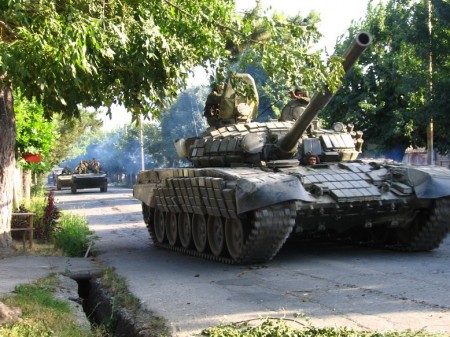 A column of Russian tanks and armored vehicles has crossed into southeastern Ukraine, away from where most of the intense fighting has been taking place, a top Ukrainian official said Monday.
Col. Andriy Lysenko, a spokesman for Ukraine's National Security Council, told reporters that the column of 10 tanks, two armored vehicles and two trucks crossed the border near Shcherbak and that the nearby city of Novoazovsk was shelled during the night from Russia. He said they were Russian military vehicles bearing the flags of the separatist Donetsk rebels.
In Moscow, Russian Foreign Minister Sergey Lavrov said Monday he had no information about the column.
The reported incursion and shelling could indicate an attempt to move on Mariupol, a major port on the Azov Sea, an arm of the Black Sea. Mariupol lies on the main road between Russia and Ukraine's Black Sea peninsula of Crimea, which Russia annexed in March. Capturing Mariupol could be the first step in building a slice of territory that links Russia with Crimea.
(Read the rest of the story here…)