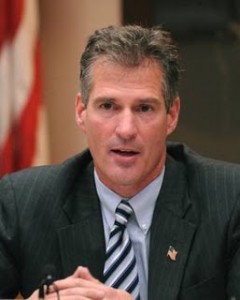 The most important news for Thursday, January 21st, 2010…..
Scott Brown's victory in the Senate race in Massachusetts is shaking up Washington.  But will he be able to slow down the Obama agenda?
Hundreds of hillside residents in California were ordered to evacuate their homes on Wednesday as heavy rains battered Southern California and threatened to inundate neighborhoods with mud and debris.
A powerful 5.9 magnitude aftershock, the strongest since last week's devastating earthquake, jolted Haitians awake shortly before dawn on Wednesday and sent thousands scurrying into the streets.
Thousands have been fleeing Port-au-Prince to escape the incredible devastation and the most recent aftershocks.
Workers are carving out mass graves on a hillside north of Haiti's capital, using earth-movers to bury thousands of earthquake victims.
The U.S. military is sending another 4,000 sailors and marines to Haiti for the earthquake relief effort, diverting them from deployments in the Gulf and Africa.
Are all of these earthquakes an indication that Bible prophecy is being fulfilled?
A newly released Rand Corporation report proposes the U.S. government create a rapid deployment "Stabilization Police Force" that would be tasked with "shaping an environment before a conflict" and restoring order in times of war, natural disaster or national emergency.
South Korea says that it would launch a pre-emptive strike against North Korea if it was necessary to thwart an imminent nuclear attack by the communist state.
So much for isolating Tehran – Iran has signed a one billion euro deal with a German firm to build 100 gas turbo-compressors.
Hamas has announced that they have accepted Israel's right to exist and would be prepared to nullify its charter which calls for the destruction of Israel.
A newly released Vatican document blames the Israeli-Palestinian conflict and the "occupying" of lands for fomenting most of the conflicts in the Middle East.
The U.S. is planning to go ahead with plans to deploy missiles near Russia.
It is getting harder to find a job in the U.S. – a total of 6,130,000 U.S. workers had been unemployed for 27 weeks or more in December 2009.
Apparently they can't hear us – Senate Democrats on Wednesday proposed allowing the federal government to borrow an additional $1.9 trillion to pay its bills, a record increase that would allow the U.S. national debt to reach $14.3 trillion. 
Forbes has published a new article with this very disturbing headline: The United States Of Debt.
Why are so many big banks getting bailed out while so many little banks are being allowed to die?
Is it going to be possible for us to spend our way out of this recession?
Are there an increasing number of signs that the U.S. economy is simply not going to recover?
The "State Foreclosure Prevention Working Group" has released a report which says that a new wave of mortgage defaults in coming.
The Federal Housing Administration has announced plans to increase the amount of up-front cash paid by all new borrowers and to require higher down payments from those with the poorest credit.
Russia's central bank announced on Wednesday that it had started buying Canadian dollars in a bid to diversify its foreign exchange reserves.
Do you still doubt that China is a superpower?  The Chinese government is getting ready to launch China's first space laboratory.
Are the globalists on the verge of triggering yet another world war?
A bill currently before the U.S. Senate would empower the Obama administration to nationalize the student lending industry.
A lawsuit filed on Wednesday by 5 students in the New York City school system against the NYPD paints a picture of school officers who routinely abuse students and arrest them for non-criminal activities.
An outbreak of a new H1N1 mutation in Nepal that has been killing people there is causing a great deal of concern.
A chemical used in non-stick pans and water resistant fabrics has been found to have a significant link to thyroid disease.
A new study has shown that eating genetically modified corn causes organ failure in rats.
Another new study has shown that aerobic exercises such as running or jogging stimulate the growth of new brain cells and improve memory and the ability to learn.
Cindy McCain, the wife of Republican Senator John McCain, and their daughter Meghan have posed for photos endorsing pro-gay marriage forces in California.
A Hawaii Senate vote on a bill that would legalize same-sex civil unions in the state could take place as early as Friday.
A 13-year-old Saudi schoolgirl is to be given 90 lashes in front of her classmates after she was caught bringing a mobile phone to school.
A mysterious "dark disk of material" is hanging out there in space and scientists do not know what it is.
The new apocalyptic film "Legion" reportedly contains disturbingly graphic images such as an innocent man exploding while tied to a cross and it portrays fallen angels as humanity's only hope against an angry God.
Lastly, a Christian minister was arrested some time ago when his toe inadvertently brushed the grass of a school lawn.