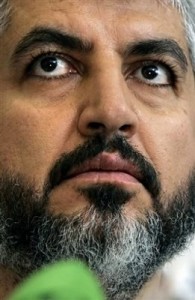 The most important news for Friday, February 12th, 2010….
Senior Hamas leader Khaled Mashaal is warning that the next war with Israel will be regional.
Iranian President Mahmoud Ahmadinejad's public mention of "the bomb" on Thursday is raising tensions around the world.
Two political prisoners that were charged with being "enemies of God" by the Iranian government were recently hanged for their "crimes".
The Iranian government was able to squash recent pro-democracy protests in Iran with the help of 
high-tech anti-riot vehicles
imported from China.
There are rumors that the Israeli news service Debka.com has been put on vacation due to fears that war may soon erupt in the Middle East.
The U.S. Treasury Department
expanded economic sanctions
on the Construction Division of the Iranian Revolutionary Guards and four of its subsidiaries on Wednesday.
The U.S. military freed a Reuters photographer in Iraq on Wednesday, nearly a year and a half after snatching him from his home in the middle of the night and placing him in military detention without charge.
It is being reported that there are approximately 700 U.S. military bases of virtually every size imaginable in Afghanistan today.
A senior U.S. official says that the U.S. military plans to expand new training centers inside Pakistan in a bid to boost its war on terror.
According to an internal document from a Chinese government think tank, rich nations furthered their "conspiracy to divide the developing world" at December's U.N. climate summit in Copenhagen.
EU leaders have agreed to a deal to help Greece tackle its debt crisis.
Germany's foreign minister, Guido Westerwelle, is backing the idea of a permanent European army.
The I.R.S. has launched a new program which enables employees to make cash for ratting out their employers.
Newsweek is asking this question: Can the FBI Secretly Track Your Cell Phone?
Police forces all over the U.K. will soon be able to utilize a fleet of unmanned aircraft that will zap protesters into submission.
A leading Croatian scientist is warning that Europe could be just five years away from the start of a new Ice Age.
China is about to overtake Japan and become the world's second largest economy.
Goldman Sachs is investigating claims that one of its computers was used to rig a public online poll about the introduction of a so-called "Robin Hood tax" on bankers.
New Jersey Governor Chris Christie declared a "fiscal emergency" in his state on Thursday.
In one recent CBS News poll, only 15 percent of those questioned approved of the job that Congress is doing.
Authorities in Cambodia are spraying cars with an antibacterial agent in an attempt to combat the spread of the H5N1 bird flu.
There has been a spike in H1N1 swine flu deaths in the state of Michigan.
If Americans don't start working together, are there some environmental, social and economic problems that could get so bad that there simply are no solutions?
China is urging the United States to immediately cancel plans for Barack Obama to meet the Dalai Lama next week.
A volcano on Montserrat shot ash approximately nine miles into the sky on Thursday.
One survivor of the Nazi regime during World War 2 is warning that America is heading down the same path.
According to a new Washington Post-ABC News poll, 75 percent of Americans say that they support openly gay people serving in the U.S. military.
A Planned Parenthood branch in Birmingham, Alabama has been put on probation by the state health department for breaking the state's abortion consent law and refusing to notify authorities of suspected child abuse cases.
Planned Parenthood is also giving out free Valentine's Day cards that contain depictions of pants on the ground, condoms and genitalia and that have special messages such as, "I like playing with you!"
Is sex with vampires capturing the imagination of our youngsters?
The New York Times is asking this question: How Christian Were the Founders?
Is Canada becoming a "post-Christian" society? 
Some 1st grade students in Arizona are going to be receiving 50 percent of their instruction in Chinese.
Lastly, are the American people starting to lose it?  Police in Georgia say that a 23-year-old man grabbed a baseball bat inside of a Wal-Mart and smashed 29 flat-screen televisions.