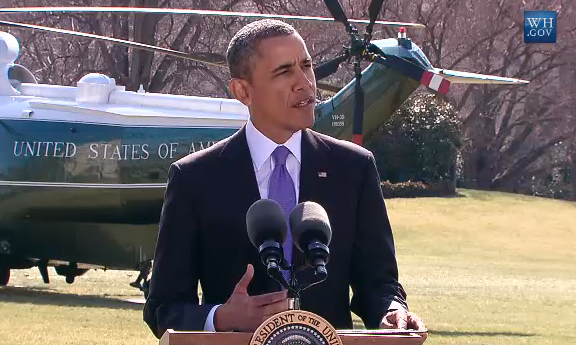 In the wake of the horrible bombings in Brussels, Barack Obama is insisting that there is no need to change our approach in the fight against ISIS. He believes that Islamic terror is not a fundamental threat to our way of life, and he wants all of us to be convinced that the way that he is handling ISIS right now is just fine. Well, in this article you are going to learn some very shocking things about Obama and ISIS that are likely to make you very angry. It turns out that our allies Saudi Arabia and Turkey have been arming, funding and aiding ISIS and other radical jihadist groups such as the al-Nusra Front (al-Qaeda in Syria), and Obama has known about it all along. The goal was to take down the Assad regime in Syria, and the American people were never supposed to find out the truth.
Earlier today, Barack Obama told reporters that ISIS is not "an existential threat to us" during a news conference down in Argentina. You can see video of him making these remarks right here. But at the same time, he is promising "to continue to go after" ISIS until they are "finally destroyed"…
The United States will "continue to go after ISIL aggressively until it's removed from Syria and from Iraq and finally destroyed," Obama said, using another name for ISIS.

"The world has to be united against terrorism," Obama said, adding that "that's a top priority of ours." He added that "we can and we will" defeat terrorism.
So what precisely is Obama actually doing to pursue this "top priority"?
We are told that the U.S. military is bombing ISIS targets, but in all the months that this has been happening, U.S. aircraft never targeted the endless convoys of ISIS oil trucks that were transporting stolen oil into Turkey. It has been estimated that ISIS sold 800 million dollars worth of oil in Turkey, and Obama knew about it the entire time.
Why didn't Obama say anything about this or do anything to stop it?
When the Russians came in, they showed satellite evidence of what was happening to the entire world and they immediately began bombing those oil convoys into oblivion.
But why hadn't the U.S. already done that?
Massive convoys of oil trucks that stretched as far as the eye could see would go back and forth over the Turkish border completely unmolested and Obama did nothing.
In fact, if the Russians had not come in and bombed the living daylights out of those convoys it would still be happening.
This should be the biggest Obama scandal of them all, and yet nobody is talking about it. Sometimes I think that I must be going crazy because what Obama did was so obviously wrong and yet nobody wants to touch this. For much more on all of this, please see my previous article entitled "The Biggest Obama Scandal? He Knows That Turkey Is Buying Oil From ISIS And He Is Doing Nothing To Stop It".
In addition, Obama knows that both Saudi Arabia and Turkey continue to provide advanced weaponry to ISIS and the al-Nusra Front.
He also knows that ISIS fighters use Turkey as a home base, and that when they are injured fighting in Syria they hop back over the border where they are treated at hospitals inside Turkish territory.
But have you heard Obama say anything about these things?
Has he done anything to stop any of this from happening?
No.
The reason why Obama hasn't done or said anything is because ISIS and the other radical jihadist groups were supposed to win in Syria. Once they had overthrown Assad, then the U.S., the Saudis and the Turks were going to come in and set up a Sunni puppet government. Of course Russian intervention has completely changed the game, and so now the Sunni militants are losing. That is why Saudi Arabia and Turkey are in such a panic about what is going on in Syria right now.
And we are also learning that western intelligence agencies had advance knowledge of the attacks in Brussels. The following comes from a Haaretz report…
The Belgian security services, as well as other Western intelligence agencies, had advance and precise intelligence warnings regarding the terrorist attacks in Belgium on Tuesday, Haaretz has learned.

The security services knew, with a high degree of certainty, that attacks were planned in the very near future for the airport and, apparently, for the subway as well.

Despite the advance warning, the intelligence and security preparedness in Brussels, where most of the European Union agencies are located, was limited in its scope and insufficient for the severity and immediacy of the alert.
So what are we to make of this?
Was this terror attack allowed to happen?
Could it be possible that someone out there helped make it happen?
Don't get me wrong – I don't want to minimize the threat of Islamic terror one bit. I just wonder sometimes which side our government is actually on.
And ISIS is warning of more attacks in the near future. In fact, they are telling us that what is coming "will be more devastating and bitter"…
Even if we were somehow able to completely wipe out ISIS, the threat of Islamic terror would be far from over.
All over the planet, radical Islam is on the rise. These jihadists have a fanatical hatred for Christians and for Jews, and their ultimate goal is world conquest.
And an act of terror does not have to result in mass casualties.
Examples of what I am talking about are all over the place. Earlier today, I came across a Christian Post article that talked about how two radical Muslims hacked a 68-year-old Christian convert to death with machetes in the nation of Bangladesh…
Unidentified attackers hacked a Christian convert to death this week in northern Bangladesh in the latest attack in the Muslim-majority country.

The incident occurred Tuesday morning in the northern city of Kurigram, where 68-year-old Hossain Ali was hacked to death by two assailants wielding machetes.

Tobarak Ullah, the police chief of Kurigram, told the AFP that the militants were able to carry out the heinous crime by using distractions and a getaway vehicle.
Many in the western world may dismiss a story like this because it was the death of only one man.
But what happens when these radical jihadists start getting their hands on bigger weapons?
Former president Ronald Reagan once made the following statement…
"I don't think you can overstate the importance that the rise of Islamic fundamentalism will have to the rest of the world in the century ahead-especially if, as seems possible, its most fanatical elements get their hands on nuclear and chemical weapons and the means to deliver them against their enemies."
The use of a single chemical, biological or nuclear weapon in a major western city would set off panic on a scale that would be unlike anything we have ever seen before.
Even something as basic as sarin gas could accomplish what I am talking about. Sarin gas has been used in both Syria and Iraq in the past, and it is exceedingly deadly. The following comes from the Huffington Post…
Inhaled or absorbed through the skin, the gas kills by crippling the respiratory center of the central nervous system and paralyzes the muscles around the lungs.

The combination results in death by suffocation, and sarin can contaminate food or water supplies, according to the US Centers for Disease Control and Prevention (CDC), which notes that antidotes exist.

"Sarin is 26 times more deadly than cyanide gas. Just a pinprick-sized droplet will kill a human," according to the World Health Organization.
Of course there are other chemical weapons that are many, many times more lethal than sarin gas, and it is inevitable that terrorists will get their hands on biological and nuclear weapons at some point as well.
Yes, terror organizations such as ISIS most definitely do represent "an existential threat" to our way of life.
Unfortunately, we have a man in the White House that does not seem particularly inclined to protect us from this threat.
(Originally published on The Economic Collapse Blog)