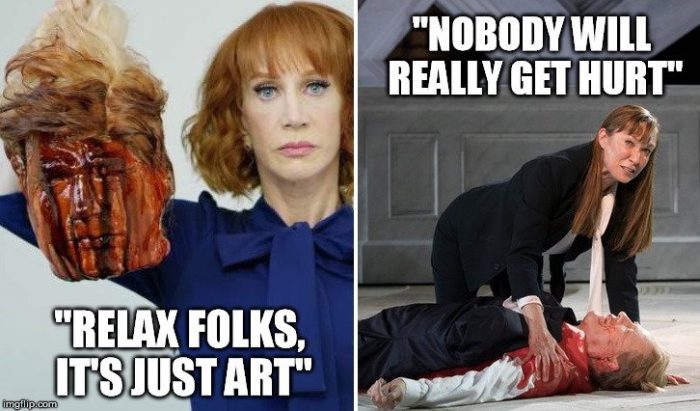 What in the world did the left think would happen? When Kathy Griffin posed for a photo with "Trump's bloody head", that sent a message. And the twisted version of "Julius Caesar" that is currently being put on by a New York theater group in which a character meant to closely resemble Donald Trump is brutally assassinated sends a message. At any time of the day, you can find leftist radicals openly discussing violence against Trump and Republicans on Facebook and Twitter, and groups like Antifa have been employing extremely violent tactics ever since the Inauguration. So it is not much of a surprise that a huge Bernie Sanders supporter decided that it would be a good idea to try to mow down Republican members of Congress as they were practicing for an upcoming charity baseball game on Wednesday. 66-year-old James T. Hodgkinson was simply the product of a political movement that is absolutely seething with hate.
This is not a game. House Majority Whip Steve Scalise was shot in the hip, and four others were injured. You can see some footage of Scalise being taken to an ambulance here. When Hodgkinson arrived at the practice field, he specifically asked which party was using the practice field at that moment…
Rep. Ron DeSantis (R-Fla.) recounted an "odd" encounter he had as he was leaving the field just minutes before the shooting: "There was a guy that walked up to us that was asking whether it was Republicans or Democrats out there, and it was just a little odd," DeSantis told Fox News.
According to news reports, Hodgkinson fired dozens of shots. This wasn't a case of targeting a particular individual. Rather, it was obvious that he intended to kill as many Republicans as he possibly could.
But instead of showing remorse, many on the radical left were actually celebrating the shootings on Twitter. And there were even some that were disappointed that it wasn't Trump that had been shot.
I hate to say this, but it is likely that this is just the beginning of the violence by the radical left.
So what would make a 66-year-old man suddenly snap like this?
His Facebook page has now been taken down, but when it was up Hodgkinson had an enormous photo of Bernie Sanders as his banner image. And it turns out that he was a huge fan of Rachel Maddow…
So, where did Hodgkinson draw inspiration for his "progressive" political beliefs? Well, according to a letter to the editor published in the "Belleville News-Democrat" in July 2012, Hodgkinson's favorite TV show was MSNBC's "Rachel Maddow Show."
What you consistently feed your mind determines what you eventually become, and this case is a perfect example. On Facebook, Hodgkinson regularly shared his hate-filled beliefs…
In a March 22 Facebook post, Hodgkinson, who turned his ire against Trump, who he described as a "traitor."

"Trump Has Destroyed Our Democracy," he said. "It's Time to Destroy Trump & Co."

In a post earlier this week, the suspect highlighted a campaign calling for the president's impeachment.

"Trump is Guilty & Should Go to Prison for Treason," Hodgkinson wrote.
And just check out some of the Facebook groups that Hodgkinson belonged to…
▪ "The Road to Hell is Paved with Republicans"
▪ "Donald Trump is not my President"
▪ "President Bernie Sanders"
▪ "Illinois Berners United to Resist Trump"
▪ "Boycott the Republican Party"
▪ "Expose Republican Fraud"
▪ "Terminate the Republican Party"
The hate-filled ideology of the left is intellectually and morally bankrupt, and the only thing all of this violence is going to do is to drive the American people away from their cause.
I must say that I agreed with U.S. Representative Steve King 100 percent when he told reporters that "violence is appearing in the streets", and that it is "coming from the left"…
"America has been divided," said Rep. Steve King (R-Iowa), who, in suit and tie, stopped by the crime scene to pray and was viscerally angry about his colleagues being attacked. "And the center of America is disappearing, and the violence is appearing in the streets, and it's coming from the left."
And of course there has been a pattern of violence against Republican lawmakers in recent months. The following compilation comes from Natural News…
Last month, as noted by The Daily Caller, GOP Rep. Tom Garrett's town halls were replete with heavy security and police presence after he and his family were repeatedly threatened with death. "This is how we're going to kill your wife," some disgusting coward wrote, Garrett told Politico.

Also last month, Tennessee police arrested and charged a 35-year-old woman, Wendi Wright, with felonious reckless endangerment after she allegedly attempted to run GOP Rep. David Kustoff off the road following a raucous town hall event featuring the Republican health care legislation.

That same day, North Dakota police escorted a man out of a town hall meeting hosted by Rep. Kevin Cramer after a man became physical with him, shoving a fistful of dollars into Cramer's shirt collar.
I almost didn't want my wife to see what happened in Alexandria this morning, because I am very, very strongly considering running for Congress here in Idaho.
I couldn't help but think that it could have been me out on that baseball field.
It would be naive to think that more Republican lawmakers won't be targeted. Just like radical Islam, the radical left in this country will never be satisfied until they completely eradicate our way of life. The radical left uses tools such as threats, violence and intimidation because they simply do not have the ammunition to win in the marketplace of ideas. And so anyone that tries to stand up to them will become a potential target.
But if we just sit back and do nothing, they will win by default.
In the end, Hodgkinson and others like him will fail. Because every time they strike us, all they are doing is waking up a sleeping giant called "the American people". We will not bend, we will not bow, and we will not break, and no matter how violent they become our resolve will not waver.
Every since the very beginning of our nation Americans have had to stand up against tyranny, and we aren't going to back down now.
(Originally published on The Economic Collapse Blog)