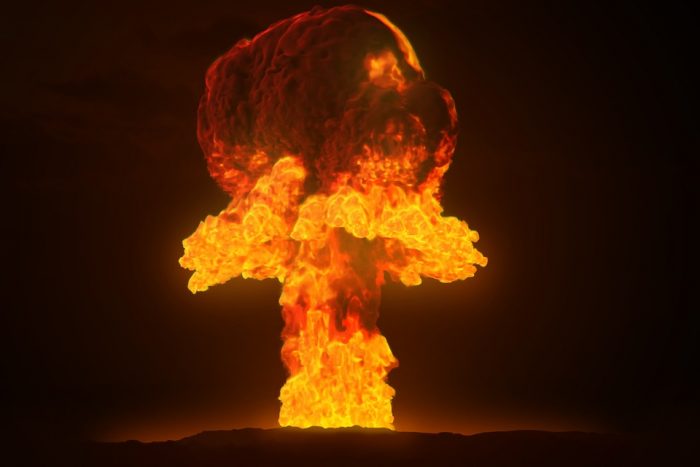 Whenever the world starts going crazy, investors instinctively begin flocking to precious metals. So it wasn't exactly a surprise when gold and silver prices started to move upward aggressively as global leaders continued to talk about the possibility of World War III and nuclear conflict. The price of gold spiked to a five month high on Tuesday, and as I write this article gold is currently sitting at $1277.10 an ounce. Right now silver is at $18.35 an ounce, and many analysts believe that it is poised for a dramatic jump in the weeks and months to come as global tensions continue to rise. Google searches for the phrase "going to war" are the highest that they have been at any point in recent years, and many people out there are starting to understand that the U.S. could soon be facing military conflicts in Syria and in North Korea simultaneously.
In response to persistent threats from the Trump administration, the North Koreans are promising that they will not hesitate to use nuclear weapons if they are attacked by the U.S. military.
In particular, an article that was just published in North Korea's official state newspaper says that U.S bases "in South Korea and the Pacific operation theater but also in the U.S. mainland" would be targeted.
Most analysts do not believe that North Korea has any missiles that can reach the U.S. mainland, so that is probably an empty threat, but they can definitely hit Seoul, Tokyo and all U.S. military bases in South Korea and Japan.
And even if the U.S. was able to locate and take out all North Korean nukes in an overwhelming first strike, the North Koreans would still have thousands of artillery guns and rockets aimed at Seoul. Military analysts in the western world have estimated that North Korea could fire off up to half a million rounds within one hour of being attacked, and the devastation that such a barrage would cause in Seoul would be beyond anything that we have ever seen in the modern world.
Personally, I have come to the conclusion that it is going to be nearly impossible to conduct a conventional military assault on North Korea that does not result in an absolutely catastrophic death toll.
Unfortunately, Donald Trump appears determined to do something anyway. A couple of days ago we learned that he "has ordered his military advisers to be ready with a list of options to smash North Korea's nuclear threat", and on Tuesday he told the world that the U.S would "solve the problem" whether China helps or not…
Trump, who has urged China to do more to rein in its impoverished ally and neighbor, said in a tweet that North Korea was "looking for trouble" and the United States would "solve the problem" with or without Beijing's help.
Just like he did with Syria, Trump's words have now committed us to taking military action in North Korea.
Let us hope that any military action is delayed for as long as possible, but it is definitely alarming that Trump boasted to the Fox Business Network about the "very powerful" naval armada that is sailing toward North Korea right now…
"We are sending an armada. Very powerful," Trump told Fox Business Network. "We have submarines. Very powerful. Far more powerful than the aircraft carrier. That I can tell you."
Meanwhile, it is being reported that the Chinese have deployed 150,000 troops to their border with North Korea as they continue to warn both sides against taking military action.
Over in the Middle East, things continue to get even more tense as well.
Russia and Iran have pledged to "respond with force" to any additional U.S. attacks, but the Trump administration is not showing any signs of backing down. In fact, White House press secretary Sean Spicer has substantially lowered the threshold for more military conflict by suggesting that the use of "barrel bombs" may be enough to justify another attack. Considering the fact that everyone in the Syrian civil war has been regularly using barrel bombs for many years and that approximately 13,000 were used in 2016 alone, it is very alarming for Spicer to say such a thing.
On Tuesday, Trump told the American people that "we're not going into Syria", but what happens if he orders another missile strike and the Russians and Iranians respond by shooting down some U.S. aircraft or by sinking an entire aircraft carrier?
I can guarantee you that members of Congress from both parties will be absolutely screaming for war if CNN starts endlessly playing footage of a U.S. aircraft carrier sinking after it has been struck by the Russians or by the Iranians.
We are so close to World War III erupting in the Middle East, and there was no need for the U.S. to get involved in the first place. According to former CIA officer Philip Giraldi, evidence continues to mount that Assad had absolutely nothing to do with the chemical attack that Trump got so upset about…
Philip Giraldi, former CIA officer and director of the Council for the National Interest, stated on the Scott Horton show that "military and intelligence personnel" in the Middle East, who are "intimately familiar" with the intelligence, call the allegation that Assad or Russia carried out the attack a "sham."

Giraldi said the intelligence confirms the Russian account, "which is that they [attacking aircraft] hit a warehouse where al-Qaeda rebels were storing chemicals of their own and it basically caused an explosion that resulted in the casualties." Moreover, Giraldi noted, "Assad had no motive for doing this."
Investors that can see the writing on the wall are already getting out of stocks and into precious metals while there is still time to do so.
Because if we get into a direct military conflict with Russia and Iran in Syria, global financial markets will crash and gold and silver will soar into the stratosphere.
And of course a similar scenario would play out if we attack North Korea and the North Koreans respond by firing off nuclear or chemical warheads at targets in South Korea and Japan.
I did not expect that we would be on the verge of World War III less than three months into the Trump administration, but here we are.
These are perilous times, and those that are wise are moving their money and are making key preparations before things spiral completely out of control.
(Originally published on The Economic Collapse Blog)