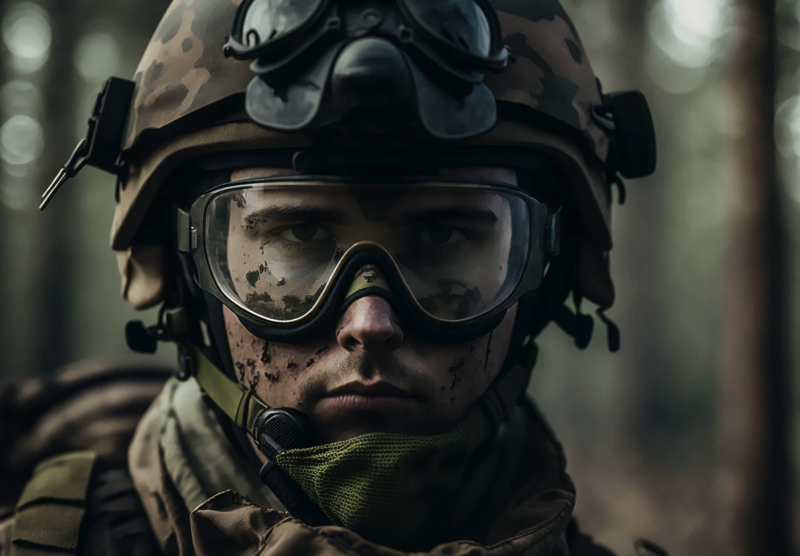 Let's just hope that the U.S. does not need to fight a major war any time soon.  Right now, the U.S. Army is actually shrinking because so few young people are being recruited.  Interest in serving in the military has plummeted dramatically, and meanwhile the percentage of our young adults that actually qualify to serve has fallen to a depressingly low level.  According to a recent Pentagon study, 77 percent of all Americans from age 17 to age 24 are ineligible to serve in the military for one reason or another.  That is a pathetically low figure, and it is the main reason why we need other countries to fight our wars for us at this point.  Just look at Ukraine.  We are providing the funding, the equipment, the ammunition and the intelligence, but they are providing the warm bodies.  If that changes and our young people are actually forced to fight in a major conflict, they will quickly find out that a real war is nothing like Call of Duty or Fortnite.
During the most recent fiscal year, the U.S. Army missed its recruiting goal by 25 percent…
How bad is the recruiting crisis? During the last fiscal year, the Army missed its recruiting goal by 15,000 active-duty soldiers, or 25 percent of its target. This shortfall forced the Army to cut its planned active-duty end strength from 476,000 to 466,000. And the current fiscal year is likely to be even worse. Army officials project that active end strength could shrink by as much as 20,000 soldiers by September, down to 445,000. That means that the nation's primary land force could plummet by as much as 7 percent in only two years — at a time when its missions are increasing in Europe and even in the Pacific, where the Army provides many of the critical wartime theater enablers without which the other services cannot function. 
The U.S. Army was once the most fearsome military machine on the entire planet.
But now it is steadily getting smaller and smaller.
It turns out that school closures during the pandemic have had an enormous impact on military recruiting, because test scores have been dropping like a rock…
Levels of depression, anxiety, and other mental health conditions exploded among young Americans (and many not-so-young Americans), who faced sometimes extreme levels of social isolation. School closures and remote instruction have caused test scores to decline dramatically throughout the country (and the world), and scores on the ASVAB, the military's standardized test for potential recruits, declined by as much as 9 percent.
Of course low test scores are not the primary reason why so many young Americans fail to qualify for military service.
Sadly, obesity is actually the number one reason…
A Pentagon study revealed that 77 percent of young Americans do not qualify for military service without a waiver due to being overweight, drug use, or mental or physical problems.

"When considering youth disqualified for one reason alone, the most prevalent disqualification rates are overweight (11 percent), drug and alcohol abuse (8 percent), and medical/physical health (7 percent)," the Pentagon's 2020 Qualified Military Available Study of Americans between the ages of 17 and 24 read.
It wasn't always this way.
At one time, America's young people were the fittest on the entire planet.  If you doubt this, just check out this video from the 1960s…
In that day and age, our military had more qualified recruits than they knew what to do with.
But now everything has changed.
In fact, obesity has now become a major problem for those that are already serving in the military…
New research found that obesity in the U.S. military surged during the pandemic. In the Army alone, nearly 10,000 active duty soldiers developed obesity between February 2019 and June 2021, pushing the rate to nearly a quarter of the troops studied. Increases were seen in the U.S. Navy and the Marines, too.
Unfortunately, to a certain extent our military has to take what it can get, because at this stage the vast majority of the population is simply not interested in military service…
Only 13 percent of young Americans said they would consider military service before the pandemic, and that already paltry figure shrank to just 9 percent last year.
9 percent.
That is horrible.
But I can't blame young people for not wanting to serve, because our military has become a politically-correct madhouse in recent years.
Instead of preparing to fight the wars of the future, our military is far more interested in making sure that everyone uses the "correct" pronouns…
What in the world has happened to us?
A time will come when the U.S. military actually has to do some real fighting, and when that day arrives we are going to be in so much trouble.
And that day may arrive a lot sooner than a lot of people think.
If a major war erupts in the Middle East, the U.S. will be involved.  On Sunday, the IDF stuck pro-Iranian targets inside Syria once again…
Israeli warplanes launched yet another attack on Syria early on Sunday, striking a number of targets in the central Syrian city of Homs from Lebanese airspace, Syrian state-news outlet SANA reported.

The strikes resulted in the wounding of five Syrian Arab Army (SAA) soldiers and the infliction of some material damages. "At around 00:35 a.m. on Sunday, the Israeli enemy carried out an aerial act of aggression from the direction of northeastern Beirut, targeting some sites in the city of Homs and its countryside… Our air defenses intercepted the missiles and shot some of them down, and the aggression resulted in the injury of five army personnel and some material damages," a Syrian military source was quoted as saying by SANA.
We continue to get closer to a shooting war with Russia as well.  In fact, NATO just conducted very extensive war games just miles away from the Ukrainian border…
The US and its NATO partners are conducting military drills in a region of Romania that borders Ukraine. Thousands of soldiers will gather to simulate repelling an invasion on the Black Sea coastline.

Dubbed "Sea Shield 23," the war games kicked off on March 20 and will run until April 2. The US and 11 other NATO countries are participating in the Romanian-led military exercises. Nearly 3,500 soldiers, 30 naval ships, 14 aircraft and 15 other "fast intervention" boats are participating in the live-fire operations, which will occur in the Black Sea and Romania's Danube Delta. Troops taking part in the Sea Shield drills will come within 20 miles of the Ukrainian border.
And most Americans don't realize this, but a war with China within the next few years has become a very real possibility…
"The one thing that we know is that China is making fast preparations for war now," Gatestone Institute senior fellow and "The Great U.S.-China Tech War" author Gordon Chang said on "Mornings with Maria" Monday.

"Mark Milley, chairman of the Joint Chiefs of Staff, just about 24 hours ago said all of this was overheated rhetoric, the way he put it. But the point is, China is preparing to kill Americans and we've got to prepare to defend ourselves," Chang continued. "And the Defense Department is making slow, really slow, molasses-slow preparations to oppose China."
So what happens if we end up fighting more than one major war simultaneously?
Does anyone out there actually believe that our military could actually handle that?
These are such perilous times, and our politicians continue to provoke both Russia and China.
But that is not wise, because most wars are won or lost before they are fought, and right now the U.S. military is woefully unprepared for what is ahead.
Michael's new book entitled "End Times" is now available in paperback and for the Kindle on Amazon.com, and you can check out his new Substack newsletter right here.
About the Author: My name is Michael and my brand new book entitled "End Times" is now available on Amazon.com.  In addition to my new book I have written six other books that are available on Amazon.com including "7 Year Apocalypse", "Lost Prophecies Of The Future Of America", "The Beginning Of The End", and "Living A Life That Really Matters". (#CommissionsEarned)  When you purchase any of these books you help to support the work that I am doing, and one way that you can really help is by sending copies as gifts to family and friends.  Time is short, and I need help getting these warnings into the hands of as many people as possible.  I have also started a brand new Substack newsletter, and I encourage you to subscribe so that you won't miss any of the latest updates.  I have published thousands of articles on The Economic Collapse Blog, End Of The American Dream and The Most Important News, and the articles that I publish on those sites are republished on dozens of other prominent websites all over the globe.  I always freely and happily allow others to republish my articles on their own websites, but I also ask that they include this "About the Author" section with each article.  The material contained in this article is for general information purposes only, and readers should consult licensed professionals before making any legal, business, financial or health decisions.  I encourage you to follow me on social media on Facebook and Twitter, and any way that you can share these articles with others is definitely a great help.  These are such troubled times, and people need hope.  John 3:16 tells us about the hope that God has given us through Jesus Christ: "For God so loved the world, that he gave his only begotten Son, that whosoever believeth in him should not perish, but have everlasting life."  If you have not already done so, I strongly urge you to invite Jesus Christ to be your Lord and Savior today.