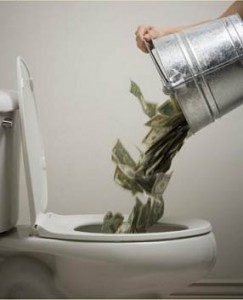 The most important news for February 14th, 2009….
U.S. government economists project that entitlement programs (such as Social Security) and interest on the national debt will gobble up 80 percent of all federal revenues by 2020.
States are looking to the U.S. federal government for more financial help, but the U.S. Senate is not heeding their call.
Israel's former top general said on Saturday that Israel may lack the military means for successful preemptive strikes against Iranian nuclear facilities.
On Friday, Barack Obama signed into law a bill allowing the United States to borrow another 1.9 trillion dollars.
With much of his legislative agenda stalled in Congress, Barack Obama and his team are planning to use his "executive power" to advance energy, environmental, fiscal and other domestic policy priorities.
One leading French bank executive says that the collapse of the Euro is "inevitable".
Palestinian officials are trying to rally support for a top aide to Palestinian President Mahmoud Abbas after a video surfaced showing him in the nude in an alleged attempt to trade his influence for sex.
At least nine people were killed and 57 others injured in a recent bomb attack at a restaurant in India's western city of Pune.
A major gun rights controversy is erupting in California after a police detective reportedly posted comments on Facebook advocating that "open carry" supporters should be shot.
Critics are warning that ACORN may qualify for up to 4 billion dollarsin Barack Obama's latest budget.
One man who recently lost his job decided to strip off his clothes and run naked through the Phoenix airport.
Two former Blackwater employees are claiming that their former company billed the U.S. government for the use of a Filipina prostitute in Afghanistan.
One man who used to work for Monsanto is claiming that the company "used fake scientific data" to get commercial approvals for its products in India.
Microsoft co-founder Bill Gates has decided the next great cause he plans on tackling is climate change.
The scientist at the middle of the Climategate scandal is now reportedly admitting that there has not been any global warming since 1995.
There has been a "dramatic spike" in the H1N1 swine flu death rate in Mexico.
International Planned Parenthood is using the earthquake in Haiti to aggressively raise funds.
Many residents of Vancouver are upset by what they see as an assault on civil liberties intended to silence critics of the Olympic Games.
A controversial Episcopal priest in Los Angeles who has a lesbian partner has so far received more than half the votes she needs to be consecrated as an assistant bishop.
A very strong magnitude 6.3 earthquake hit near the South Pacific kingdom of Tonga on Saturday.
Lastly, in a sign of how disgusting American society has become, six friends recently took a mentally disabled woman to an apartment where they forced her to drink vegetable oil, detergent and urine.  Then they shaved her head and beat her with a towel rack, a vacuum cleaner hose and a crutch.  Finally, they forced her to write a suicide note before stabbing her to death.  Is this what America has become now?