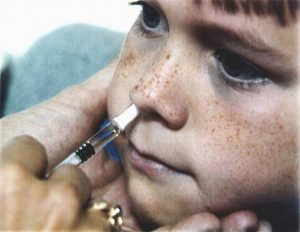 The most important news for Tuesday, October 6th, 2009…..
U.S. health authorities started vaccinating the American people for H1N1 today by shooting live swine flu up their noses.
ABC's Dr. Oz has been out promoting the swine flu vaccine all over television, but he is NOT going to give it to his own kids.
Fox News is shamefully telling their viewers not to believe any "conspiracy theories" about vaccines.  That is some "fair and balanced" reporting for you.
Has American turned over its economic sovereignty to the IMF?
U.S. Treasury Secretary Timothy Geithner is calling on the International Monetary Fund to provide rigorous surveillance of the G20 economies.
The World Bank is welcoming the new economic order that has arisen out of the ashes of the financial crisis.
The front page of a major U.K. newspaper featured this stunning headline today:  "The demise of the dollar".
On Tuesday the United Nations called for the creation of a new global reserve currency which would put an end to the supremacy of the U.S. dollar.
U.S. Defense Secretary Robert Gates has admitted that in Afghanistan "the Taliban do have the momentum right now".
President Barack Obama has refused to meet the Dalai Lama in Washington this week in an attempt to gain favor with the Chinese.
Now citizens in Los Angeles are being urged to spy on each other in an attempt to crack down on terrorism.
Rupert Murdoch has launched his campaign to charge readers for Internet news.
Did the Nazi eugenics program of the 1940s have American roots?
Archaeologists in the U.K. have discovered what is being called "Stonehenge's little sister".
Lastly, the U.S. federal government has banned religious references on ornaments for the 2009 Capitol Christmas Tree.  Isn't that so tolerant of them?