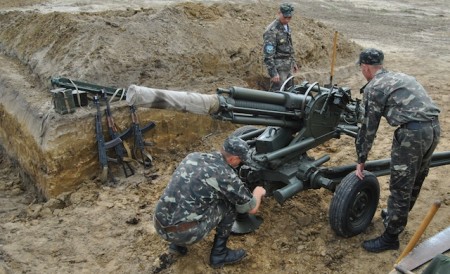 For the second time in a week Ukraine has fired artillery rounds into Russia.
On Wednesday a border crossing at Kuibyshoveo was hit by two artillery shells, according to the chief press officer in the Southern Customs Department.
"The personnel of the customs house were evacuated at 7.50 am Moscow time after blasts of shells fired from the Ukrainian customs checkpoint Marinovka. Shells exploded outside a border checkpoint in Russia. No one was hurt in the incident," Rayan Farukshin told the Russian news agency ITAR-TASS.
The border station at Novoshakhtinsk, a mining town in the Russian Oblast of Rostov, was evacuated after gunfire was reported at the Ukrainian border crossing in Dolzhansky.
Shootings and evacuations at Russian border stations have increased over the last few days. On Monday Russia's Donetsk checkpoint in the Rostov Region was closed following a shooting on at the adjoining Ukrainian Izvarino customs station border station, according to RIA Novosti on Tuesday.
The Donetsk station was closed after a 120-mm artillery shell hit a house in the Rostov region on Sunday and killed a 47-year old Russian civilian. The Russian Foreign Ministry condemned the shelling and said that the provocation might have "irreversible consequences."
No less than seven artillery shells fell on the Russian side of the border on Sunday. In addition to the death of the Russian man, two women were wounded.
The Rostov incident promoted
Russian Deputy Defense Minister Anatoly Antonov
to invite foreign military attachés to the site on Tuesday.
(Read the rest of the story here…)