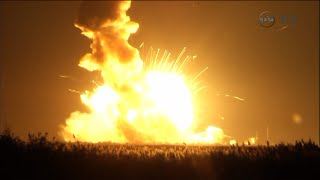 An unmanned commercial rocket headed for the International Space Station to deliver supplies exploded just after launching Tuesday, filling the sky with a massive fireball.
The Antares rocket supplied by contractor Orbital Sciences blew up moments after liftoff at NASA's space launch facility on the Eastern Shore of Virginia, the space agency said.
The explosion destroyed the rocket and spacecraft and immediately raised questions about the future of NASA's reliance on private commercial ventures to carry vital payloads into space to supply and support the orbiting space station.
NASA and Orbital Sciences were gathering data to determine the cause of the failure of the Orbital CRS-3, the space agency said. No injuries were reported.
(Read the rest of the story here…)