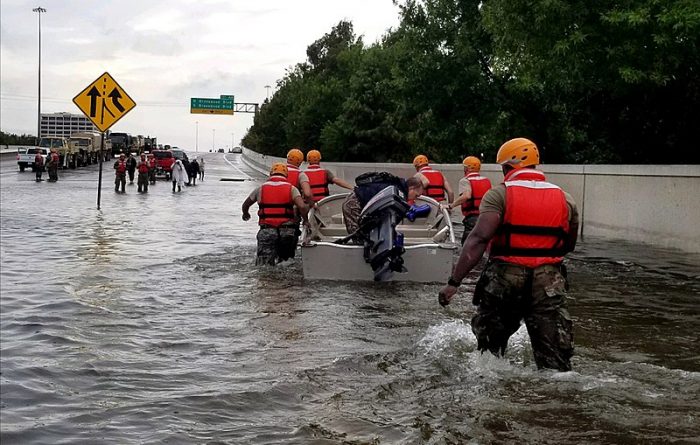 Never before have we seen a storm dump more than 50 inches of rain on a single location in the continental United States. The previous record for rainfall in the continental United States occurred when Tropical Storm Amelia dumped 48 inches of rain on Medina, Texas in 1978. But now one spot in southeast Texas has already received 52 inches of rain, and the rain continues to fall. And overall, 14 different spots in the Houston area have already gotten more than 40 inches of rain. Authorities are telling us that this will easily be the most costly disaster in all of U.S. history, but nobody will be able to truly assess the total damage that has been done until the rain finally stops.
Sadly, meteorologists say that some parts of Texas will continue to get more rain all the way through Thursday. By that time, some areas may receive an additional 20 inches of rain on top of what they already have…
Wide swaths of southeast Texas have been devastated by Tropical Storm Harvey, with some areas drowning in nearly 40 inches of water — and Lone Star State residents are bracing for another beating with up to 20 more inches of rain.
If you have seen video of the flooding that is taking place in Houston, it is hard to imagine that things could get much worse. As I mentioned above, many areas already have more than 40 inches of rain, and one spot in southeast Texas has actually gotten 52 inches of rain…
A preliminary report from a rain gauge on the Cedar Bayou, east of Highlands, Texas, reported 51.88 inches of rain as of 3 p.m. Tuesday, according to the National Weather Service.

Earlier in the day, a weather station southeast of Houston at Mary's Creek at Winding Road, reported 49.32 inches of rain, the weather service said.

Both reports break the previous continental U.S. record of 48 inches set in 1978 in Medina, Texas, by Tropical Storm Amelia.
In addition to all of the rainfall, a major problem is the fact that river levels are rising to extremely dangerous levels. One levee has already been breached, and water has gone over the top of the 108 foot spillway for the Addicks Reservoir for the first time in history…
An already-swollen reservoir west of downtown Houston overtopped its spillway Tuesday, sending an "uncontrolled release" of Harvey's floodwaters into nearby neighborhoods, as a separate levee breach south of the city prompted an urgent warning for residents to leave immediately.

Floodwaters in the the Addicks Reservoir, located about 19 miles west of downtown, went over the top of the 108-foot spillway for the first time in history, threatening immediate surrounding subdivisions.
Unfortunately, disasters such as this tend to bring out the worst in people. As I mentioned yesterday, police have been busy rounding up looters, and some businesses have been caught engaging in extreme price gouging…
Over the weekend, more than 500 complaints of price gouging were lodged with the Texas attorney general's office, according to CNBC—including $99 cases of bottled water, gas at $10 a gallon and hotels tripled or quadrupled in price.
I suppose that it is just human nature to do that, but to me that is utterly shameful.
It is during times of testing that our character is truly revealed. So many down in Houston have been absolutely incredible throughout this entire crisis, while others have shown all of us who they really and truly are.
Our fourth largest city is in the process of literally being destroyed, and I am so thankful for everyone that is working to rescue, house and feed those that are in desperate need. Sadly, there are others that are not stepping up to the plate, and they are being greatly criticized for it.
According to former FEMA Director Michael Brown, the economic damage being done by this storm will ultimately make it "the most expensive natural disaster in American history"…
"There are several factors that make it worse than Katrina. For one, there is the scope of the flooding. Harris County and the surrounding areas are so saturated," Brown told the Houston Chronicle.

"Also, the amount of damages will continue to grow. There will be mold and structural damages adding up." Brown said when Tropical Storm Harvey finally goes away, it will leave an incredible bill for taxpayers to pick up.

"This will be unfathomably expensive for both the private sector and taxpayers," Brown said. "This will be easily the most expensive natural disaster in American history."
Please pray for southeast Texas and for all of the people that have had their lives turned completely upside down by this storm. We have never seen anything like this before in the history of our country, and this crisis is still far from over.
Michael Snyder is a Republican candidate for Congress in Idaho's First Congressional District, and you can learn how you can get involved in the campaign on his official website. His new book entitled "Living A Life That Really Matters" is available in paperback and for the Kindle on Amazon.com.