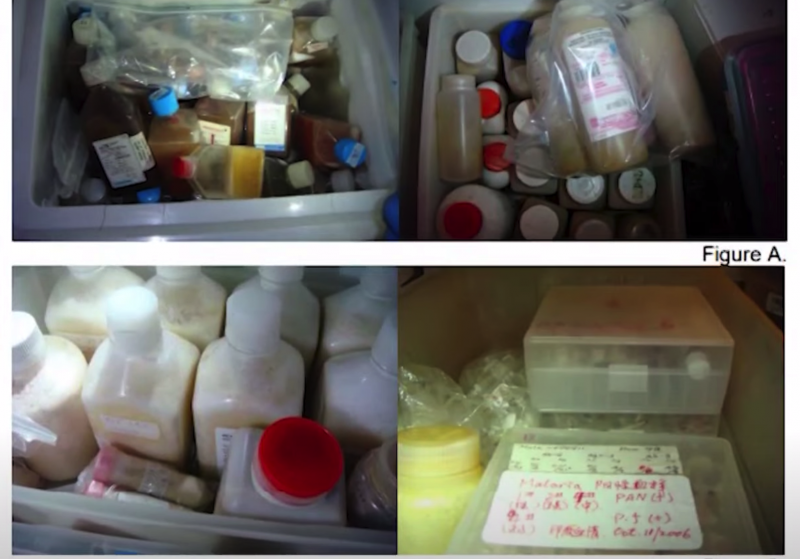 It appears that "an illegal, unlicensed laboratory full of lab mice, medical waste and hazardous materials" that was owned by a shadowy Chinese company was doing some pretty crazy things.  When authorities entered the facility, they discovered "thousands of vials" that contained all sorts of various infectious agents.  In addition to malaria, they found "chlamydia, E. Coli, streptococcus pneumonia, hepatitis B and C, herpes 1 and 5 and rubella" in this secret lab.  In addition, they also found 900 mice that were "genetically engineered to catch and carry the COVID-19 virus".  So exactly what was going on here?
This secret lab was located in a warehouse in Fresno County, California, and authorities may not have ever found it if there had not been "a simple garden hose that was illegally attached and coming out of a wall in the back of the building"…
An investigation into a Reedley warehouse uncovered a large-scale illegal medical lab complete with bioengineered mice, infectious agents, nearly 30 refrigerators and freezers some of which were non-operational, incubators, and more leaving officials shocked and the public worried.

Local, state, and federal agencies are all involved and what prompted this investigation was a simple garden hose that was illegally attached and coming out of a wall in the back of the building.
I suppose that we should all be thankful for the nosy local code enforcement officer that noticed the garden hose.
Without him, those working in that facility may have continued to stockpile nightmarish biological plagues for a long time to come.
And why were mice that were "genetically engineered to catch and carry the COVID-19 virus" discovered at this facility?…
Reedley officials and personnel from CDPH and FCDPH executed a warrant on March 16 to inspect the warehouse at 850 I Street. According to a declaration from Humero Prado, Assistant Director of Fresno County Public Health, which was filed in superior court, investigators discovered that one room of the warehouse was used to produce COVID-19 and pregnancy tests. In other rooms, investigators found blood, tissue and other bodily fluid samples. They also found thousands of vials that contained unlabeled fluids.

"That's when we found the mice," said Zieba.

Over 900 mice were located at the facility. Court documents identify Wang Zhaolin as the Prestige representative onsite during the investigation. Zhaolin informed the investigators that "these mice were genetically engineered to catch and carry the COVID-19 virus." Court documents describe the conditions under which the mice were housed as "inhumane."
That is super suspicious.
Were they just doing "research" on these mice, or did those in charge of this secret lab have another purpose for them?
And as I mentioned above, all sort of other infectious agents were also found when authorities conducted their search…
Court documents confirm the CDC found potentially infectious agents at the location. These included both bacterial and viral agents, including: chlamydia, E. Coli, streptococcus pneumonia, hepatitis B and C, herpes 1 and 5 and rubella. The CDC also found samples of malaria.
I can't think of a reasonable explanation for any of this.
Why would a secret lab operating in a remote warehouse in Fresno County, California want to have all of those infectious agents?
To me, this whole thing stinks.
When asked about this facility, local experts told the media that they had never seen anything like this…
"This is an unusual situation. I've been in government for 25 years. I've never seen anything like this," said Reedley City Manager Nicole Zieba.

Even county health officials were left in shock.

"I've never seen this in my 26-year career with the County of Fresno," said Assistant Director of the Fresno County Department of Public Health Joe Prado.
I don't know why CNN, MSNBC and Fox News aren't all over this, because this is a really big story.
So far, local news outlets have been giving this more coverage than anyone else.
We are being told that a company called "Prestige BioTech" was running this lab.
At this stage, not much is known about this secretive Chinese company…
NBC News reports that an investigation found the tenant was Prestige BioTech, a company registered in Nevada and unlicensed for business in California. City officials spoke with Xiuquin Yao, who was identified as the company president, through emails included in the court documents.

Yao told officials that Prestige BioTech moved assets belonging to a defunct company, Universal Meditech Inc., to the Reedley warehouse from Fresno after UMI went under. Prestige Biotech was a creditor to UMI and identified as its successor, according to court documents.

Officials were unable to get any California-based address for either company except for the previous Fresno location from which UMI had been evicted.

"The other addresses provided for identified authorized agents were either empty offices or addresses in China that could not be verified," court documents said.
Does "Prestige BioTech" have links to the Chinese government?
Most large Chinese companies do.
Hopefully officials in Washington will get to the bottom of this, because it appears that this secret lab in California was potentially a massive threat to national security.
Meanwhile, we continue to see very alarming outbreaks of disease all over the globe.
For example, Middle Eastern respiratory syndrome has just reappeared in the United Arab Emirates…
One of the world's deadliest diseases is feared to be spreading in the Middle East after sickening a man in his twenties.

The 28-year-old, of Abu Dhabi, was left fighting for his life in hospital after catching MERS — a deadlier cousin of Covid.

Officials in the UAE, also home to Dubai, are now scrambling to contain the virus to ensure it doesn't spread between humans.

MERS, or Middle Eastern respiratory syndrome coronavirus, is thought to kill up to a third of everyone it infects.
That isn't good.
And the WHO is telling us that cases of dengue fever are "expected to reach record levels" this year…
The number of dengue fever cases worldwide is expected to reach record levels according to the World Health Organization (WHO), after a recent outbreak was reported in Egypt. The Asian tiger mosquito, which transmits the virus, is thriving in Israel, raising concerns that the disease may spread into the country as well.
Here in the United States, a fungus called "Candida auris" that has become resistant to all known treatments is rapidly becoming a "serious global health threat" according to the CDC…
The Centers for Disease Control and Prevention is tracking an emerging fungus that presents a "serious global health threat."

The CDC said healthcare facilities in 29 states, including Florida, have reported that a type of yeast called Candida auris (C. auris) has been causing severe illness or death in hospitalized patients.

Nevada has reported the most cases, at 384. California has reported 359 cases. Florida has the third most cases, with 349 reported.
We are also being told that leprosy is spreading in Florida and that it has become "endemic in the southeastern United States"…
The numbers themselves aren't alarming yet — eight cases in Florida in 2023. However, what's particularly concerning is that recent infections don't appear to have originated from foreign travel to high-risk countries like India, Brazil and Bangladesh.

"Florida has witnessed an increased incidence of leprosy cases lacking traditional risk factors. Those trends, in addition to decreasing diagnoses in foreign-born persons, contribute to rising evidence that leprosy has become endemic in the southeastern United States," say the authors of a CDC report. "Endemic" describes a disease that regularly occurs in a given region. "Travel to Florida should be considered when conducting leprosy contact tracing in any state."
Leprosy in America?
I didn't see that one coming.
But as I keep telling my readers, we have entered an era of great pestilences.
In many previous articles I have warned that mad scientists are monkeying around with some of the most dangerous bugs ever known to humanity in secret labs all over the planet.
And now we have just learned that a Chinese company was actually doing this on a very large scale in a run down warehouse in Fresno County, California.
These are such perilous times.
Our ability to manipulate diseases far exceeds our ability to control outbreaks, and it is just a matter of time before more "accidents" happen.
Michael's new book entitled "End Times" is now available in paperback and for the Kindle on Amazon.com, and you can check out his new Substack newsletter right here.
About the Author: My name is Michael and my brand new book entitled "End Times" is now available on Amazon.com.  In addition to my new book I have written six other books that are available on Amazon.com including "7 Year Apocalypse", "Lost Prophecies Of The Future Of America", "The Beginning Of The End", and "Living A Life That Really Matters". (#CommissionsEarned)  When you purchase any of these books you help to support the work that I am doing, and one way that you can really help is by sending copies as gifts to family and friends.  Time is short, and I need help getting these warnings into the hands of as many people as possible.  I have also started a brand new Substack newsletter, and I encourage you to subscribe so that you won't miss any of the latest updates.  I have published thousands of articles on The Economic Collapse Blog, End Of The American Dream and The Most Important News, and the articles that I publish on those sites are republished on dozens of other prominent websites all over the globe.  I always freely and happily allow others to republish my articles on their own websites, but I also ask that they include this "About the Author" section with each article.  The material contained in this article is for general information purposes only, and readers should consult licensed professionals before making any legal, business, financial or health decisions.  I encourage you to follow me on social media on Facebook and Twitter, and any way that you can share these articles with others is definitely a great help.  These are such troubled times, and people need hope.  John 3:16 tells us about the hope that God has given us through Jesus Christ: "For God so loved the world, that he gave his only begotten Son, that whosoever believeth in him should not perish, but have everlasting life."  If you have not already done so, I strongly urge you to invite Jesus Christ to be your Lord and Savior today.