Miracles are still happening today. When 11-year-old Roxli Doss was diagnosed with inoperable brain cancer in June, doctors did not believe that she would live for very long. And even though there is no cure, she went through many weeks of radiation treatment anyway. But even after all of that treatment, it looked like there was no hope. The following comes from a USA Today story about her…
It's hard to imagine that in June doctors diagnosed Roxli with an inoperable cancerous brain tumor called diffuse intrinsic pontine glioma, or DIPG.

"It is very rare, but when we see it, it is a devastating disease," said Dr. Virginia Harrod with Dell Children's Medical Center in Austin, Texas. "You have decreased ability to swallow, sometimes vision loss, decreased ability to talk, eventually difficulty with breathing."
But today, Roxli is playing with her friends, riding horses and doing all the things that she normally loves to do. Her tumor is completely gone and the doctors have absolutely no explanation for what happened.
So what changed?
Well, it turns out that her parents were praying for a miracle, and they certainly got one…
The family held a benefit for her in August, and the community responded in a big way. At that point, all Gena and Scott Doss could do was pray for a miracle.

"And we got it," Gena said.

"Praise God we did," Scott said.
This is a major miracle that nobody can deny, and yet in just a few days most of the country will have completely forgotten about this story.
I would like to share another remarkable supernatural event with you. When 55-year-old Rosemarie Melanson attended the Route 91 Harvest Festival on October 1, 2017, she probably never imagined that it could be her last day on earth.
But of course we all remember what happened, and Rosemarie was one of the victims…
Rosemarie Melanson, 55, was at the Route 91 Harvest festival with her two adult daughters when Paddock rained bullets on the crowd from his suite in the Mandalay Bay Hotel on October 1, 2017.

In total, 58 people were killed and 850 were injured.
After she was shot, she remembers leaving her body, and shortly after that she found herself in heaven…
'The next thing I know I was in heaven. And I saw my dad and my two brothers, and my uncle.

'And it was so beautiful. It was so beautiful you didn't want to come back. They just told me, "It's not your time, Rosemarie. You've got to go back,"' she recalled.
Rosemarie is just one of hundreds upon hundreds of people that have personally experienced either heaven or hell and have come back and told us the truth about what happens after we die.
Unfortunately, most people refuse to believe despite such hard evidence, and that is incredibly sad.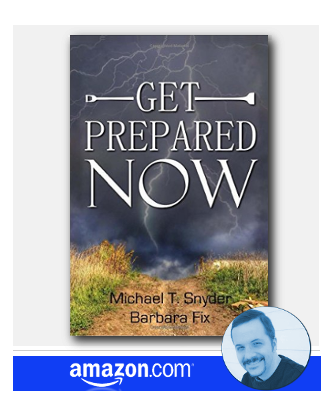 About the author: Michael Snyder is a nationally-syndicated writer, media personality and political activist. He is the author of four books including Get Prepared Now, The Beginning Of The End and Living A Life That Really Matters. His articles are originally published on The Economic Collapse Blog, End Of The American Dream and The Most Important News. From there, his articles are republished on dozens of other prominent websites. If you would like to republish his articles, please feel free to do so. The more people that see this information the better, and we need to wake more people up while there is still time.