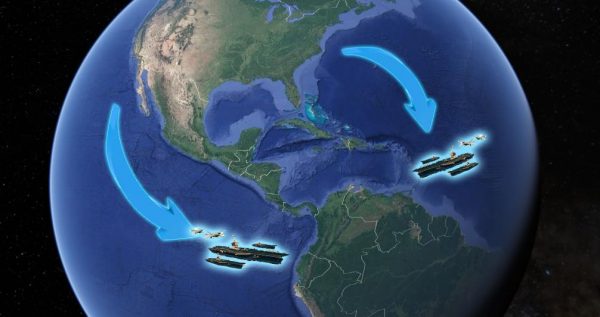 Juan Guaido has initiated a violent uprising in an attempt to overthrow Nicolas Maduro, and it appears that the U.S. may be preparing to intervene in the conflict militarily. The USNI News Fleet and Marine Tracker accurately tracks the current positions of U.S. naval assets, and according to them the USS Dwight D. Eisenhower has left port on the east coast and the USS Theodore Roosevelt has left port on the west coast. In both cases, each aircraft carrier was originally slated for "training" exercises, but now there is lots of speculation that they are both steaming south toward Venezuela. Since there has been no official confirmation from Washington, let me stress that once again that any talk about the potential destination of these carriers is just speculation. But considering what is taking place in Venezuela at this moment, it certainly would not surprise anyone if the waters off Venezuela is precisely where they are heading.
Earlier today, the Intel_Radar Twitter account created quite a stir with a series of seven tweets…
BREAKING: US Navy deploys two aircraft carriers, both southbound, one from each coast, amid Venezuela crisis. #Venezuela #Maduro #Guaido

Update 1 : Eisenhower left Virginia headed South, on the same day Roosevelt deployed out of San Diego headed for the Panama Canal. #Venezuela #Freedom #Guaido #Maduro #Cuba #USNavy

Update 2 : US Navy Nimitz-class aircraft carrier USS Dwight D. Eisenhower (MMSI:368962000|CS:NIKE) departed Norfolk ~2019-04-26, was off AIS for 4 days, and seems to be headed South, off the US East Coast. #Venezuela #Maduro #Guaido #Freedom #US_Navy

Update 3 : American Roll-on Roll-off Carrier (ARC) RoRo Integrity (IMO:8919934|MMSI:367063310) departed Mexico with a fake destination, "hiding their destination".

Update 4 : USS Dwight D. Eisenhower has earned a number of awards, including the Battle "E" in 1979, 1980, 1981, 1985, 1990, 1998, 1999, 2006 and 2012 as the most battle efficient carrier in the Atlantic Fleet. #Venezuela #Maduro #Cuba #Guaido #Freedom

Update 5 : 6248 kHz LSB Venezuela naval freq still active. Also morse code in background.

Update 6 : A US Navy fast combat support ship departed Norfolk just a little bit ago.
If all of this information is true, it would certainly seem to indicate that something is up.
Could it be possible that the U.S. is about to go to war with Venezuela?
If you are not familiar with what happened in Venezuela on Tuesday, here is a pretty good summary…
It was a ploy that from its outset felt like a long shot. Before dawn Tuesday, Juan Guaido, flanked by his political mentor Leopoldo Lopez and a handful of soldiers who had broken ranks, issued a message to Venezuela and the world: The time to topple Nicolas Maduro's authoritarian regime was right now.

By dusk, with Maduro still firmly in control of the military command, Lopez had sought refuge in the Chilean ambassador's residence in Caracas and the streets were beginning to empty of the protesters who had heeded Guaido's call to join what he called Operation Liberty.
Either Guaido is completely suicidal, or he is coordinating with the U.S. and he believes that U.S. military help in on the way.
The second option seems more likely, and on Tuesday John Bolton even admitted that "a deal had been struck" with key members of Maduro's regime…
The whole episode was so bizarre — with Guaido seemingly lacking the military might to have any chance at all — that it was hard to understand the day's events. One explanation, as related by National Security Adviser John Bolton, was that a deal had been struck behind the scenes and that key members of Maduro's regime had agreed to flip, paving the way for Guaido to easily assume power.
Well, either Bolton was bluffing or those officials double-crossed him, because it just hasn't happened.
And perhaps that would help to explain this very angry tweet from Bolton…
.@vladimirpadrino, @Ivanr_HD, @MaikelMorenoTSJ: Your time is up. This is your last chance. Accept Interim President Guaido's amnesty, protect the Constitution, and remove Maduro, and we will take you off our sanctions list. Stay with Maduro, and go down with the ship.
In response to Bolton's tweet, one top Venezuelan official posted the following…
Dream on @AmbJohnBolton … Not today! #TrumpHandsOffVenezuela
Subsequently, Bolton once again told the press that "all options are on the table" when it comes to Venezuela…
Bolton later told reporters that the U.S. would consider intervening in Venezuela.

"We want, as our principal objective, the peaceful transition of power, but I will say again as the president has said from the outset and as Nicolas Maduro and those supporting him — particularly those who are not Venezuelan — should know, is all options are on the table," Bolton said.
But if the U.S. goes into Venezuela, it will be a full-blown war against a seasoned military with more than 300,000 troops in a country twice the size of Iraq.
In addition, the Russians and the Cubans already have troops there, and they have no intention of pulling their forces out.
In other words, an invasion of Venezuela could potentially spark World War 3.
But John Bolton doesn't seem fazed by any of that. He is a hardcore war hawk, and he has been calling for military conflict for years. If you will remember, he actually called for a pre-emptive war against North Korea just two months before joining the Trump administration…
For John Bolton, the national-security adviser, the summit represented a conundrum. Two months before he entered the White House, in April, 2018, he had called for preëmptive war with North Korea. During the past two decades, Bolton has established himself as the Republican Party's most militant foreign-policy thinker—an advocate of aggressive force who ridicules anyone who disagrees. In an op-ed in the Wall Street Journal, he argued that Kim's regime would soon be able to strike the United States with nuclear weapons, and that we should attack before it was too late. "The threat is imminent," he wrote. "It is perfectly legitimate for the United States to respond to the current 'necessity' posed by North Korea's nuclear weapons by striking first."
We truly live in ominous times, and many are deeply concerned that Bolton seems to have so much influence over U.S. foreign policy right now.
Ultimately, we don't know what is going to happen next, but it is interesting to note that White House Chief of Staff Mick Mulvaney also used the phrase "all options are on the table" during an interview with Maria Bartiromo…
"The only messages I think we are trying to get out there is that we want to make sure the Russians and the Cubans know they are not supposed to get involved and that we do and have said a bunch of times that all options are on the table" said Mulvaney during a conversation with FOX Business' Maria Bartiromo from the Milken Institute Global Conference Opens a New Window.
They are making it very clear that a full-blown invasion of Venezuela is a real possibility, and most Americans have absolutely no idea what that would mean.
We are talking about a conflict that would be several magnitudes greater than the Iraq war, and it could be right around the corner.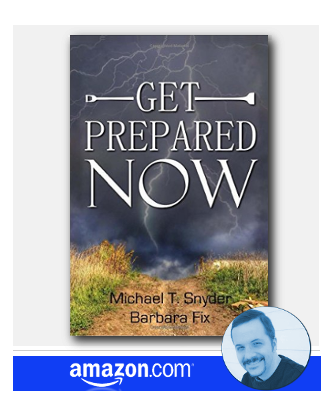 About the author: Michael Snyder is a nationally-syndicated writer, media personality and political activist. He is the author of four books including Get Prepared Now, The Beginning Of The End and Living A Life That Really Matters. His articles are originally published on The Economic Collapse Blog, End Of The American Dream and The Most Important News. From there, his articles are republished on dozens of other prominent websites. If you would like to republish his articles, please feel free to do so. The more people that see this information the better, and we need to wake more people up while there is still time.