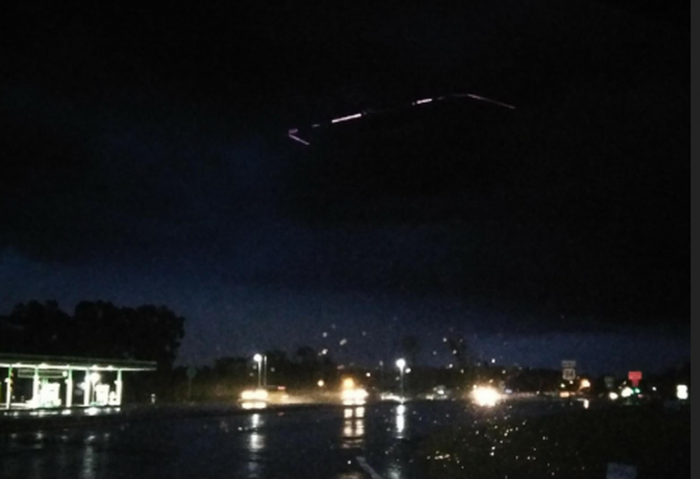 A 35-year-old man named Javion Hill created quite a stir when he posted a photograph of a giant square UFO that he witnessed hovering near Charlotte, North Carolina on his Facebook profile. Hill claims that he took his photograph on the night of August 18th, and another witness has chimed in and said that he spotted a UFO in that area that night as well. If this photograph is legitimate, the UFO is absolutely enormous, so it is quite understandable why Hill was so shaken up by this incident. Before taking this photo, Hill said that he didn't "necessarily believe in UFOs", but he sure does now. And this story has already been picked up by several local media outlets, including the Charlotte Observer…
Another alleged UFO sighting near Charlotte has appeared on Facebook and in this case, it was posted by a husband and father who says he doesn't necessarily believe in UFOs.

Javion Hill, 35, of Kings Mountain, North Carolina, says he took several photos of the object during a storm on the night of Aug. 18, as he drove on U.S. 74 southwest of Charlotte.
A mysterious encounter with something that is not supposed to exist can really shake someone up, and Hill's encounter with this UFO left him so shaken that he was not able to sleep that night…
The images feature something square hovering above the treeline, with its edges fringed in lights. Hill told the Charlotte Observer the craft frightened him to the point that he didn't sleep that night.
And I feel really bad for Hill, because he probably never imagined that this would happen to him.
Now he will be called a "kook" and a "nut" just for simply reporting something that unexpectedly happened to him.
In recent years, North Carolina has become a real hotbed for UFO sightings. In fact, North Carolina is now a top 10 state for such sightings…
North Carolina is in the top 10 among the 50 states when it comes to alleged UFO sightings, according to the National UFO Reporting Center in Davenport in Washington state.

The state has had 7,570 reported UFO sightings since 1940, some of which have inspired conspiracy theories of ongoing secret military experiments, according to the odds makers at Casino.org. The site recently calculated the odds of seeing a UFO in NC as 1 in 135,500.
This photo definitely creeped me out too, but is it possible that there is a natural explanation in this case?
According to some people, an "experimental military spacecraft known as the TR-3B" is being tested at military bases in that region…
Conspiracy theorists maintain many UFO sightings in the region are actually an experimental military spacecraft known as the TR-3B, an anti-gravity craft that hovers. Some believe the craft is from one of the state's military bases, which include Fort Bragg, Pope Field and Camp Lejeune.

Military.com reports the TR-3B "doesn't exist officially."
So was the craft that Hill photographed really just a U.S. military creation?
That is entirely possible, but for the moment this is yet another unexplained mystery…
This article originally appeared on Unexplained Mysteries. About the author: Michael Snyder is a nationally syndicated writer, media personality and political activist. He is publisher of The Most Important News and the author of four books including The Beginning Of The End and Living A Life That Really Matters.