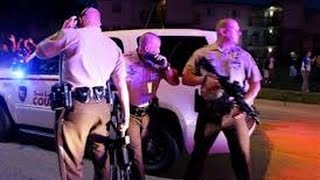 Police have used questionable tactics in Ferguson, Missouri to quell riots in the wake of a cop shooting a black unarmed 18-year-old, from arresting journalists to using tear gas on peaceful protesters to bringing barking police dogs into the streets.
"Using dogs on a crowd in a civil disturbance has been a no-no in policing since Selma, Alabama," former police chief Chuck Drago told Business Insider, referring to bloody civil rights protests in 1965. "It doesn't look good. It's a PR nightmare if nothing else, and it just stirs people up."
Tensions between Ferguson cops and Ferguson residents actually started long the shooting death last weekend of Michael Brown days before he was supposed to start college. The city is 67% black, but only three out of 53 police officers in the city are African-American, The New York Times notes. There's evidence of racial profiling in the city, as The Times notes that blacks account for 87% of traffic stops in Ferguson.
(Read the rest of the story here…)