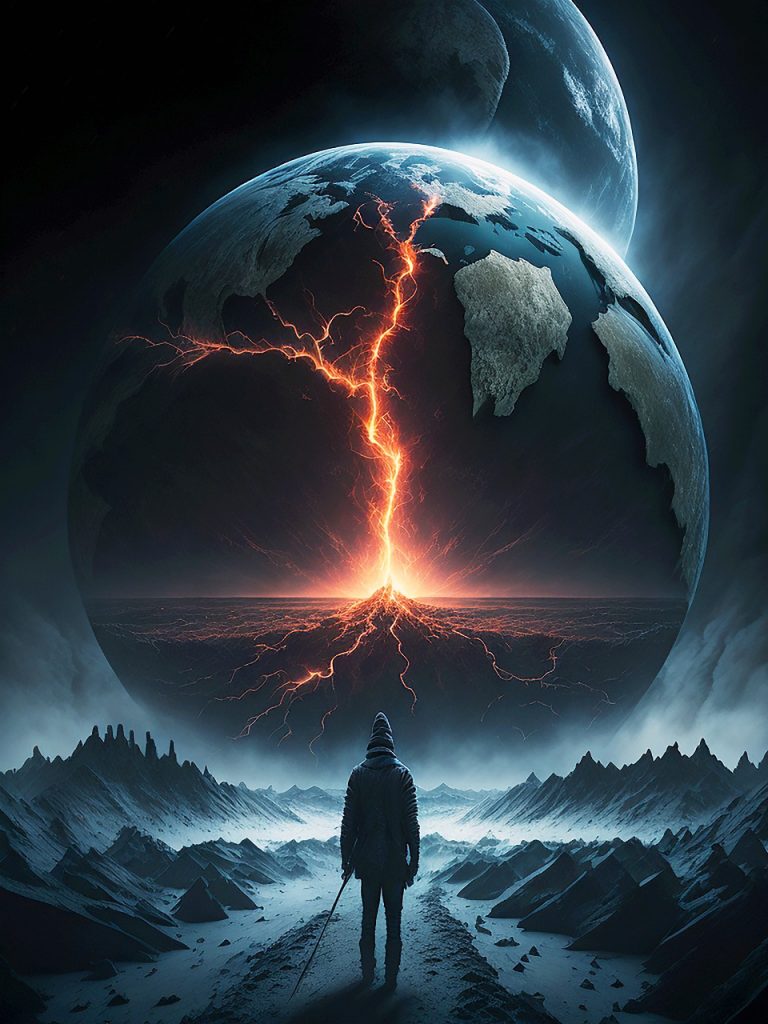 An absolutely massive volcanic eruption in Russia has created a cloud of dust and ash that is a thousand miles long.  Yeah, that is "normal".  In recent days we have also seen a spectacular eruption of lava at Mt. Etna in Italy, volcanic activity has caused a brand new island to emerge off the coast of Japan, and thousands of people have been forced to evacuate in Iceland as volcanic magma races to the surface near the town of Grindavik.  If you understand the period of world history that we are living in, then you already know that what we are experiencing now is just the tip of the iceberg.  Unfortunately, the vast majority of the population is completely and utterly unprepared for the apocalyptic "Earth changes" that are rapidly approaching.
Personally, I was stunned when I heard about what was taking place in Russia.
I knew that there had been an eruption, but I didn't know that it had actually created a cloud of dust and ash that is 1,000 miles long…
Eurasia's tallest volcano has violently erupted, throwing a 1,000-mile-long (1,600 kilometers) cloud of dust and ash into the air, new NASA satellite images show.

Klyuchevskoy, sometimes referred to as Klyuchevskaya Sopka, is an active stratovolcano in Russia's Kamchatka Peninsula, which is home to more than 300 other volcanos. Klyuchevskoy's peak stands at 15,584 feet (4,750 meters) above sea level, making it taller than any other volcano in Asia or Europe, according to the Kamchatka Volcanic Eruption Response Team (KVERT).
Eruptions of this magnitude have the potential to dramatically affect the climate of the entire planet.
On November 1st, the cloud of dust and ash from this eruption actually reached a maximum height of seven and a half miles…
Klyuchevskoy has been continually erupting since mid-June. But on Nov. 1, a massive volcanic explosion released a torrent of smoke and ash, which reached a maximum height of 7.5 miles (12 km) above Earth's surface, according to NASA's Earth Observatory.
This is serious.
But because it is happening in Russia, most people in the western world simply do not care what is happening.
Meanwhile, rapidly rising magma is now only about 500 meters from the surface
near the town of Grindavik, Iceland
…
A huge nine-mile long magma intrusion, just northwest of Grindavik, has formed and is growing, according to experts, with magma thought to be as close as 500 metres from the surface.

Just a few days ago, experts were saying that magma was accumulating three miles below ground, but it has now risen much closer, if estimates are correct.

'At this stage, it is not possible to determine exactly whether and where magma might reach the surface,' the Meteorological Office said.
I hope that everyone is long gone from that area by now, because it appears that a major eruption could be imminent.
Prior to being evacuated, local residents could literally hear "thunder in the ground" as rapidly moving magma caused earthquake after earthquake to happen right under their feet…
Residents in Iceland fear homes in the evacuated town of Grindavik could be 'frozen in time like Pompeii' should they be covered in lawa.

British Expat Anne Sigurdsson, 66, moved to Iceland from Carlisle seven years ago with her husband Siggi, 63. She told the Mirror: 'This island could be ripped apart. We fear Grindavik could end up frozen in time like Pompeii.'

She said she could hear the heavy earthquakes plaguing the area before she could feel them, describing them as 'thunder in the ground'.
Unfortunately, this could be just the beginning of Iceland's problems.
According to one volcanologist, what we are currently witnessing could be part of "a new eruptive phase" which could possibly last for hundreds of years…
Iceland's looming volcano blast is just the beginning of a new era of volcanic eruptions that will last for centuries, with the build-up of magma beneath the coastal town of Grindavik signalling that more is to come, scientists have warned.

The Fagradalsfjall volcano on the Reykjanes Peninsula is threatening to erupt, with Iceland's Met Office saying that the 'likelihood of a volcanic eruption is high' and could happen at anytime in the coming days.

After 800 years of inactivity, a 2021 eruption marked the start of a new cycle of volcanic activity, and now Cambridge volcanologist Clive Oppenheimer, says that blast may have kicked off 'a new eruptive phase' which could last centuries.
Of course it isn't just Iceland that is seeing unusual seismic activity.
According to the Smithsonian Institute's Global Volcanism Program, 19 volcanoes are erupting all over the globe right now, but that list "doesn't include all erupting volcanos"…
The Smithsonian Institute's Global Volcanism Program tracks new eruptions and updates its list of currently erupting volcanos on Wednesdays. The most recent update shows three new eruptions, bringing the list's total to 19 eruptions at once. The list doesn't include all erupting volcanos.

The new volcanic eruptions have some people voicing their concerns on social media.

"Volcanoes erupt simultaneously in Italy, Iceland, Japan, Mexico, Russia, Philippines, etc. Below is a volcanic activity map of 2013 vs 2023. Totally normal, right?" one person posted on X, formerly Twitter.
Sadly, the changes that are happening to our planet will greatly accelerate during the months and years that are ahead of us.
So are you ready?
Are you prepared for truly cataclysmic Earth changes?
One recent survey discovered that 34 percent of Americans "believe they can be the sole survivor of the apocalypse"…
A third of Americans (34%) believe they can be the sole survivor of the apocalypse, a new survey reveals. The poll of 2,000 U.S. adults looked at how this would be the case and found that these respondents believe they'd outlast everyone because of their strong survival skills (54%) and adaptability (53%).

Three in 10 see themselves as the "underdog" of the apocalypse, while more respondents believe they're the "top dog" who would undoubtedly survive it all (33%). According to Americans, the ideal "survival team" they would build to get through the apocalypse includes Dwayne "The Rock" Johnson (43%), Chuck Norris (36%), Superman (33%), John Cena (26%), and MacGyver (23%).
To me, that survey makes it very clear that Americans have been watching way too much television.
This isn't a game.
This is the real world, and the cold, hard reality of the matter is that our planet is becoming very unstable.
So I would encourage everyone to get prepared while they still can, because much greater natural disasters are on the way.
Michael's new book entitled "Chaos" is now available in paperback and for the Kindle on Amazon.com, and you can check out his new Substack newsletter right here.
About the Author: My name is Michael and my brand new book entitled "Chaos" is now available in paperback and for the Kindle on Amazon.com.  In addition to my new book I have written seven other books that are available on Amazon.com including "7 Year Apocalypse", "Lost Prophecies Of The Future Of America", "The Beginning Of The End", and "Living A Life That Really Matters". (#CommissionsEarned)  When you purchase any of these books you help to support the work that I am doing, and one way that you can really help is by sending copies as gifts to family and friends.  Time is short, and I need help getting these warnings into the hands of as many people as possible.  I have also started a brand new Substack newsletter, and I encourage you to subscribe so that you won't miss any of my articles.  I have published thousands of articles on The Economic Collapse Blog, End Of The American Dream and The Most Important News, and the articles that I publish on those sites are republished on dozens of other prominent websites all over the globe.  I always freely and happily allow others to republish my articles on their own websites, but I also ask that they include this "About the Author" section with each article.  The material contained in this article is for general information purposes only, and readers should consult licensed professionals before making any legal, business, financial or health decisions.  I encourage you to follow me on social media on Facebook and Twitter, and any way that you can share these articles with others is definitely a great help.  These are such troubled times, and people need hope.  John 3:16 tells us about the hope that God has given us through Jesus Christ: "For God so loved the world, that he gave his only begotten Son, that whosoever believeth in him should not perish, but have everlasting life."  If you have not already done so, I strongly urge you to invite Jesus Christ to be your Lord and Savior today.