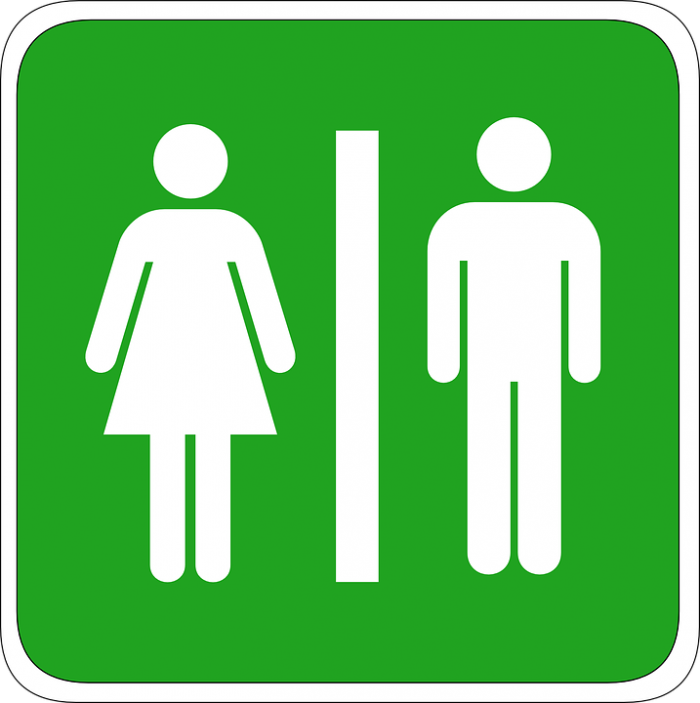 Should public facilities continue to offer separate bathrooms for men and women? In 2016, this has become a political "hot potato" that is causing emotions to run high on both sides of the debate. Many liberals consider the push for gender-neutral bathrooms to be on the cutting edge of the civil rights movement in the United States. Meanwhile, many conservatives consider separate bathrooms for men and women to be a matter of basic moral decency. What both sides of the debate can agree on is that this is an issue that is not going away any time soon. Gender-neutral bathrooms are popping up in public places all over America, and the Obama administration has even installed one in the White House. Unfortunately, these gender-neutral bathrooms can have some very serious unintended consequences as you will see below.
U.S. colleges and universities are at the center of this debate. All over the country student groups are pushing for gender-neutral restrooms, and many institutions of higher learning are now starting to implement them. The following comes from an editorial in the Harvard Crimson that addresses the transition that is now taking place at that university…
The need for gender-neutral restrooms is profound, and their expansion is long overdue. Gender-neutral restrooms are critical for the safety and well-being of BGLTQ students, and it is vital that they are installed more widely throughout campus. While it is commendable that some of the Houses have started to implement gender-neutral restrooms, single-gender bathrooms are the majority, especially in residential buildings. The process by which students can petition for gender-neutral restrooms in their dorms remains inconsistent and opaque. Additionally, very few gender-neutral restrooms exist in academic buildings.
Of course other institutions of higher learning are far ahead of Harvard in this regard. In fact, there is one university in New York City that only has gender-neutral restrooms at this point…
The Cooper Union, a small but prestigious art and engineering university in New York City, has taken the bold step of making every single bathroom on campus gender-neutral.

Instead of being classified as "men's," "women's," or single-occupancy restrooms, all facilities at the Cooper Union will carry descriptive signs describing exactly what lies within. Former men's rooms, for instance, are now described as "urinals and stalls," while former women's rooms now carry the label "stalls only." Regardless of their type, all bathrooms will be open to whomever wants to use them. According to Inside Higher Education, Cooper Union appears to be the first college in the country to entirely de-gender all of its bathroom facilities.
Unfortunately, when men and women start using the same bathrooms, really bad stuff can happen.
This is something that the University of Toronto found out the hard way…
The administration at the University of Toronto was recently enlightened on why two separate washrooms are generally established for men and women sharing co-ed residencies.

The University is temporarily changing its policy on gender-neutral bathrooms after two separate incidents of "voyeurism" were reported on campus September 15 and 19. Male students within the University's Whitney Hall student residence were caught holding their cellphones over female students' shower stalls and filming them as they showered.
Anyone with half a brain could have figured this out.
If you allow young men into areas where young women are exposing themselves, some of those young men are going to try to look. We are a nation of voyeurs, and our young men have been trained by thousands of hours of television and movies to think of women as sex objects.
As I wrote about yesterday, it has been estimated that 68 percent of all Christian men watch pornography on a regular basis. Considering what our men are doing behind closed doors, do you really want them around when women are trying to shower or use the toilet?
I don't mean to be crude, but this is the reality of the situation.
Sadly, the University of Toronto doesn't seem to get the message. The rule change at that one residence hall is only "temporary", and no changes have been made to the rules at other residence halls…
The University concluded that while the changes were made in the specific residence hall of the voyeurism incidents, "there has been no change to the designation of gender-neutral washrooms in the other University College Residences or elsewhere on campus as a result of these incidents."
I suppose that it is "politically incorrect" to think that there will be problems if young men and young women are using the same restrooms. The officials are the University of Toronto clearly believe in what they are doing, and they don't plan to reverse course now.
But I would suggest that it is quite naive to put men and women in the same public bathrooms and just assume that everything will work out just fine somehow.
And we have seen problems start to happen in non-academic settings as well. Just consider what recently happened at a public swimming pool in the Seattle area…
A man claimed a right to use a women's locker room at a public swimming pool after his partial undressing there caused alarm.

According to Seattle Parks and Recreation, women alerted staff at Evans Pool staff when a man wearing swim trunks entered the women's locker room and took off his shirt.

When staff told him to leave, the man reportedly said "the law has changed and I have a right to be here."
Ultimately the man was not arrested, and he later returned to the women's locker room while young girls were changing…
No one was arrested in this case and police weren't called, even though the man returned a second time while young girls were changing for swim practice.
What is going to stop other sickos like this from putting on a dress and demanding that they have every right to sit there and watch women change at public swimming pools all across the nation?
In the end, the only thing that will stop it is if laws are passed, but that is not going to be as easy as you may think. In fact, the state of North Carolina has created a massive national controversy because of the law that was just passed there…
In the face of travel bans from at least five states, 10 cities and two counties, North Carolina's governor issued an executive order Tuesday that he said restores some protections to gays in the state.

Gov. Pat McCrory's order, signed in the state capital of Raleigh, does not change North Carolina's controversial law, which he signed March 24 and became effective immediately. It prohibits counties and municipalities from passing anti-discrimination ordinances and requires transgender people to use public bathrooms and locker rooms that match their gender at birth.
As you can see, this is becoming a major political issue all over the nation.
Should what do you think the solution is?
Please feel free to share your thoughts by posting a comment below…
*About the author: Michael Snyder is the founder and publisher of End Of The American Dream. Michael's controversial new book about Bible prophecy entitled "The Rapture Verdict" is available in paperback and for the Kindle on Amazon.com.*