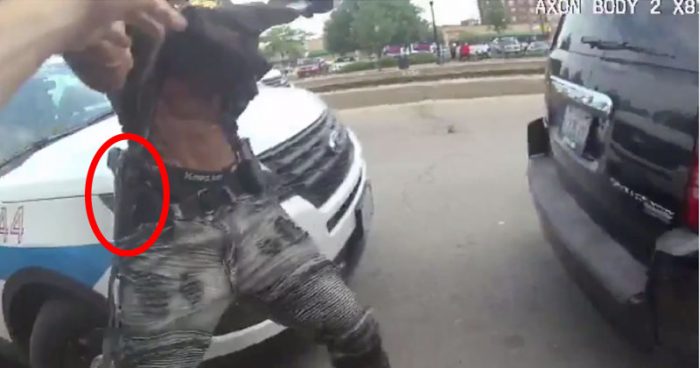 Bodycam video released by the Chicago Police Department Sunday exonerated an officer involved in the shooting of an armed 37-year-old black man.
The shooting, which resulted in violent protests over the weekend, came after Harith Augustus, a local barber nicknamed "Snoop," reached for a gun Saturday during a confrontation with police.
Video of confrontation between police and Mr. Augustus at 71st and Jeffery. pic.twitter.com/Qd9q9IXNdS

— Anthony Guglielmi (@AJGuglielmi) July 15, 2018
Video shows Augustus attempting to flee after refusing to be detained by officers.
"When they approached him, he tried to push their hands away," Patrol Chief Fred Waller said.
A freeze frame from the footage shows a holstered firearm and magazine on Augustus' hip as he fights with police on scene.
Just moments after Augustus can be seen reaching for the firearm.
"He started flailing and swinging away, trying to make his escape," Waller said. "And as he was making his escape, reached for his weapon."
A lack of information directly after the shooting did not stop locals from accusing the police of wrongdoing.
Demonstrators were heard shouting "no justice, no peace" and "murderer" during large protests on Sunday.
Numerous videos from the protest shows police and demonstrators clashing over the alleged injustice.
Here's more of the scuffle between Chicago Police officers and protestors at the scene where an officer shot and killed a man. pic.twitter.com/iwObeD4cvH

— Nader Issa (@NaderDIssa) July 15, 2018