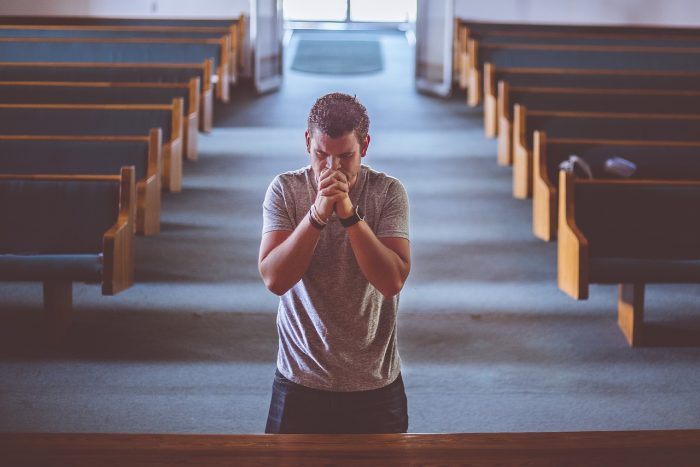 (Guest article by Caroline Christie) The Jewish men were lined up, facing away from their Nazi executioners. One by one, the men were shot in the head. This went on for much of the afternoon. Simon Wiesenthal, then a young man, was resigned to his fate. Suddenly the church bell rang, and somebody called, "Enough for now. Vespers." The soldiers, only a few feet away from Simon, left to attend church.
Leslie Kleinman describes his family's journey to Auschwitz (a concentration camp in Poland that killed 1.1 million Jews). They were packed into trains – 110 per car, with one bucket as a toilet, and told that they were being taken to Germany. When the train began to move, one man shouted out, "This train doesn't go to Germany, it goes East." He knew. The train stopped briefly, next to a church during a service. The Jews screamed and cried out. They were so loud, the Christians had to pause their service until the train left. Once more, it was quiet. Do you suppose God heard their prayers?
In 1930, Germany had about 60 million people, 40 million Protestants and 20 million Catholics. Jews were less than 1 percent of the population. A country that was 99+ percent Christian, put Hitler in power. They were not just silent when they should have spoken up, Christians helped him round up and kill Jews, manning the death trains and concentration camps. Christians are responsible for the Holocaust; they looked the other way while six million Jews were killed – because they were unwanted. As God watched, was His heart breaking?
You and I have looked away while 60 MILLION unwanted, unborn children were murdered. How does God regard us?
We are the Laodicean church – the Christians that Jesus said he would spit out of His mouth. This article originated because I wanted to understand why Jesus would say such awful things – to US.
When the Laodicean church age began in 1900, 96% of Americans were Christians. By 2014, that number had dropped to 70.6%, with only 17.7% actively attending church. Christians are continuing to leave the faith in droves. Only 24% of Americans still believe that the Bible is the word of God.
In 1900 there were virtually no children born outside of marriage, but today 41% of births are to unmarried parents. In addition, 1 in 4 pregnancies end in abortion. Since the US population is 323 million, and there have been 60 million abortions, almost 1 in 5 Americans were killed by an induced abortion. 70% of women getting their first abortion identify as Christian, with 26% attending church once a week or more. Even worse, taxpayers provide 50% of Planned Parenthood's operating budget, contributing 582 MILLION dollars a year. (PP performs 324,000 abortions a year, more than any other provider.)
We have sown the wind and are reaping the whirlwind. 96% of males and 94% of females report having sex outside of marriage. STD's are at an all time high – and rising. 1 in 6 adults between 14 and 49 have Genital Herpes. In 2016, Americans contracted 2 million new cases of STD's.
Sadly, 68% of Christian men, including 50% of pastors, admit to viewing pornography. By high school, 90% of American boys are regularly viewing porn. 1 in 5 female college students are addicted to porn. Should we be surprised that there are many Christian women who bought the book "50 Shades of Grey" and went to the Shades of Grey movies that followed?
We defile our bodies, which are the temples of God (1 Corinthians 3:16) by committing adultery. Jesus refers to us as an "adulterous and sinful generation." (Mark 8:38) We are. According to Ashley Madison (a website for cheaters) the majority of people looking for an adulterous affair identified as Christian, with a quarter being Evangelicals – making it the most common faith of the unfaithful.
Christians divorce at 38%, a very similar rate as the general population. Born again believers divorce at 33% and Atheists at 28%. When Atheists have lower divorce rates than born again Christians, something is VERY wrong with the church.
The Bible says, "Therefore, whether you eat or drink, or whatever you do, do it all to the glory of God." (1 Corinth 10:31) But that's not how we do it in America. 1 in 8 American adults (and 1 in 4 under 30) is an alcoholic. The Opioid epidemic is so severe it has actually caused the life expectancy in the whole US to decrease.
We also consume prescription and non prescription drugs at an alarming and ever increasing pace. 1 in 5 adults is on a prescription psychiatric drug. The number of depressed Americans has increased a whopping 65% since 1999. By 2030 it is expected that depression will be the leading cause of death. From 1999 to 2014 there has been a 24% increase in suicide deaths of American men. For every completed suicide there are 25 attempts. Suicide is the second leading cause of death for young people between 10 and 24.
Sadly, many people mix alcohol and drugs to intensify the effects, and it causes their deaths. These are referred to as "Deaths of Despair."
America is the "breadbasket of the world." We can easily access healthy and affordable food. 75% of men and 60% of women are overweight or obese, mainly due to poor diet and lack of activity. This has lead to Diabetes quadrupling in 30 years, with 1 in 3 American adults having Pre-Diabetes.
We are the church that has TV, the Internet and Smart phones; we have the potential to reach the world for Christ. But, under our watch, all three have become cesspools of pornography, sexual excesses, graphic violence and the tearing down of Christian values.
Under our watch, the foundation for U.S. Laws is no longer the Bible and Ten Commandments; we have cast those aside for moral relevance. The world around us is drowning in sin, anxiety, depression and despair because God's laws are ignored in favor of ungodly New Age ideas. But the church is too compromised, too worldly, and too much a part of the problem to be of much help. So, we overeat, use mind numbing drugs and alcohol, and look for love in all the wrong ways and places.
Jesus sees all this, and more, and responds, " You say, I am rich, have become wealthy and have need of nothing – and do not know that you are wretched, miserable, poor, blind and naked. I counsel you to buy from Me gold refined in the fire, that you may be rich, and white garments that you may be clothed, that the shame of your nakedness may not be revealed; and anoint your eyes with salve that you may see. As many as I love, I rebuke and chasten. Therefore be zealous and repent." Rev. 6:17-19
Repent. The Great Tribulation will be here soon. It will be a time of testing for the whole world. The Bible warns that many believers will fall away during that time of testing, only those who are willing to let go of the world and totally trust Jesus, even unto death, will overcome and save their soul .
Some Christians are expecting to be raptured, rather than tested. Many people even got saved in order to avoid going through the Great Tribulation. This is a false hope; the Bible never promises a pre tribulation rapture. Instead, Jesus promises us, "To him who overcomes I will grant to sit with Me on My throne, as I also overcame and sat down with My Father on His throne." (Rev. 3:21) Are you willing to be an overcomer in order to rule with Jesus? Remember, He was homeless, and had to trust God completely to provide for His every need. When we refuse to take the mark, we will also have to do that. Jesus was beaten, spat upon, persecuted and rejected by the religious elite. When we refuse to worship the Antichrist, we will experience these things. Jesus was scourged and put to death, a very painful death on a cross. He was slaughtered in the most humiliating way possible. We must also be willing and prepared to suffer humiliation, pain and death; many Christians will be martyred during the Great Tribulation. Are you willing to overcame as Jesus also overcame? Jesus sets out that this will be the price that we must be willing to pay.
We are the generation that will go through the fire that tests the whole earth. We will be refined like pure gold, and many of us will be victorious in the crucible that awaits. We will triumph with the determination to persevere and faithfully follow Jesus no matter the cost, and the strength and confidence of knowing the God that sees the future and keeps His promises.
"He who has an ear, let him hear what the Spirit says to the churches." (Rev. 3:22)