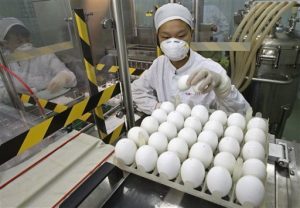 The most important news for Tuesday, September 22nd, 2009…..
On Monday China became the very first nation in the world to begin a national swine flu vaccination campaign.  The United States is scheduled to begin their nationwide swine flu vaccine program in October.
Dozens of Long Island nurses plan to rally with health care workers from across New York state next week in Albany to protest an insidious state regulation that mandates that they be vaccinated for the H1N1 swine flu or lose their jobs.
Home health care workers in the state of New York are being required to take the swine flu vaccine.
Plans call for U.S. Senators and their staff to soon receive masks to help them avoid getting the swine flu.
The European Union is spending millions on developing an "Orwellian" surveillance system called Project Indect which will monitor web sites, discussion forums, social media, peer-to-peer networks and even individual computers for "abnormal" behavior.
U.S. Energy Secretary Steven Chu says that Americans are like "teenage kids" when it comes to energy issues.
Dust storms in the city of Sydney, Australia turned the sky red.
Many Mexicans are outraged at the influx of illegal aliens that are returning to that country because they can't find work anymore in America.
Schools in Tucson, Arizona are planning to create a two-tier "race-based" system of discipline.
Scientists have discovered that DNA has a bizarre ability to put itself together, even at a distance, when according to known science that should not be possible.
Reuters has posted an article about the upcoming G20 meeting with this very disturbing headline: "U.S. to push for new economic world order at G20".
The New York Times is reporting that the FDIC may soon ask for a bailout from healthy U.S. banks.
Shares of VeriChip corporation tripled after the company announced that it had been granted an exclusive license to two patents which will enable it to develop implantable virus detection microchips in humans.
Under a new scheme being developed by a drug company, patients in the U.K. will receive a microchip in their shoulder to remind them to take their medicine.
In Dan Brown's new book, the Freemasons are the good guys.
Wired Magazine is telling us that we should embrace human cloning.
Lastly, Iran's Islamic Revolution Guards Corps has shot down an unidentified shining object after sighting it over Persian Gulf waters.