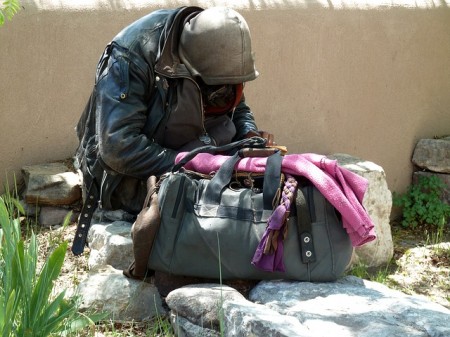 His face riven with lines forged by years on the streets, Gil reaches into the top pocket of his shirt and fishes out a wedge of grimy papers. These are the precious records of his life, documents the rest of us keep in a filing cabinet at home. Eventually he finds what he is looking for, a yellow slip that looks like a parking ticket.
That, as it happens, is about right, although Gil is not a man of many possessions and certainly not a car. He does, however, have size 13 shoes. In his hands is a police citation written a few weeks ago when an officer found him sitting on the kerb with his feet touching the road. "Feet in Roadway Disturbing Traffic," it reads.
This is Fort Lauderdale, in Broward County, Florida, between Miami and Palm Beach, and Gil's ticket – he gives his first name only – could be Exhibit A in what civil rights activists say is a creeping and insidious campaign by this and many other American cities to drive the homeless out of their midst by a combination of police harassment and increasingly draconian new ordinances that make being homeless a criminal offence.
(Read the rest of the story here…)